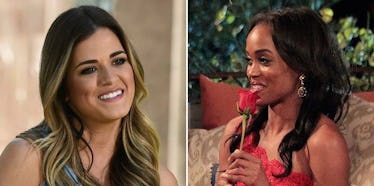 JoJo Fletcher On Rachel As New 'Bachelorette': 'I Think We're All Ready For It'
ABC
JoJo Fletcher says she's "ready" for Rachel Lindsay to take on her former role as the next "Bachelorette."
After 21 seasons of "The Bachelor" and 12 seasons of "The Bachelorette," Rachel, a 31-year-old lawyer from Dallas, is the first black lead ABC has ever cast in the franchise.
Jimmy Kimmel and Rachel announced the decision Monday night on "Jimmy Kimmel Live!" despite the fact Rachel is still a contestant on the current "Bachelor" season.
Last year's "Bachelorette" JoJo Fletcher and former "Bachelor" contestant Becca Tilley briefly spoke to E! News about the historic decision.
JoJo said,
I thought there was no other choice but Rachel and she's a Dallas girl, so we're going to keep that trend rolling... I just love that she's a good age. She's very smart. She handles herself well. She's super confident and it's nice that they are mixing it up, so props to them.
When pressed, JoJo finally commented on the whole first-black-lead-after-33-combined-seasons thing.
JoJo said,
I think we're all ready for it.
And Becca elaborated,
I think progression only happens when you kind of push the boundaries and you make people get used to something or get comfortable with something.
Eh, I'd say "The Bachelorette" is not so much "pushing boundaries" as it is "finally catching up to the last half century of social change," but whatever. I get her point.
Unfortunately, Rachel's new gig does mean current "Bachelor" Nick Viall will be saying goodbye to her soon. (Way to spoil the rest of this season, ABC.)
On Monday night, Nick posted an emotional tribute to Rachel on his Instagram.
He wrote,
Bachelor Nation doesn't know how it all goes down yet, but as you'll surely see saying goodbye to Rachel was one of the most heartbreaking moments of my life. I have met very few people who possess as much beauty, grace, and charisma as Rachel and after hearing that she'll be the next Bachelorette I couldn't be more excited.
Best of luck to Rachel in her upcoming hunt for a man, and congratulations to her for dodging a bullet on Nick Viall.
Citations: JoJo Fletcher Reacts to Rachel Lindsay Being Named the Next Bachelorette: "I Thought There Was No Other Choice" (E! News)