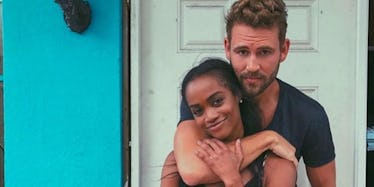 Nick Viall Opens Up About 'Bachelorette' Rachel: Losing Her Was 'Heartbreaking'
Instagram
Rachel Lindsay is having a bittersweet Valentine's Day.
It was recently announced the contestant would be the next "Bachelorette"-- the first black bachelorette in the show's history -- and fans are excitedly anticipating the upcoming season.
However, while we're celebrating Rachel's future, Nick Viall is reminiscing about the tough goodbye shared between the two as we now know she won't win "The Bachelor."
Based off the fact that she was named the next Bachelorette, we can assume she isn't going to last much longer on Nick's show -- but that's a given.
After the news was announced on Tuesday that Rachel was going to be the next star of the show, the bachelor himself posted an emotional Instagram about saying goodbye.
In the photo's caption, Nick wrote,
Bachelor Nation doesn't know how it all goes down yet, but as you'll surely see saying goodbye to Rachel was one of the most heartbreaking moments of my life. I have met very few people who possess as much beauty, grace, and charisma as Rachel and after hearing that she'll be the next Bachelorette I couldn't be more excited.
AWWW. We're excited too, Nick!
He continued,
Bachelor Nation is so lucky to have her but not as lucky as the group of men who will have a chance at winning her heart. No one is better prepared to show Bachelor Nation, and the world, the beauty of embracing diversity. Good luck Rachel, not that you'll be needing it. I'm so proud and happy for you, I'm honored to be able to call you a friend. I can't wait to watch your journey!!#thebachelor#thebachelorette
Well, I guess we'll see how it all "goes down" on the next "Bachelor," but based off how well the duo got along, we can assume the goodbye isn't going to be an easy one.
In fact, he admitted they had undeniable chemistry during an interview on Ellen that's going to air on her Valentine's Day show.
When Ellen says she's surprised he and Rachel aren't going to end up together because of their chemistry, Nick responds,
We did. Rachel and I had an amazing amount of chemistry from the very first night -- she got the first impression rose. I'm very excited for her, I think she's going to be an amazing bachelorette.
As much as saying goodbye hurts, we can assume Rachel's excited to start her journey as the next bachelorette.
Nick's supporting her 100 percent, and it's pretty damn adorable.