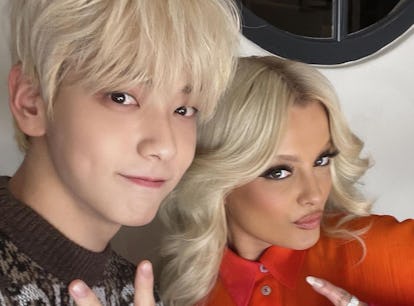 Soobin Finally Met His Idol Bebe Rexha After Years Of Stanning
The moment MOAs and Rexhars have been waiting years for has finally arrived. On March 3, TXT's Soobin met his favorite pop star, Bebe Rexha, and they memorialized the occasion with adorable selfies and fun videos. The two musicians have been huge fans of one another for years, but until now, they've only communicated their love for one another through social media. So, after past attempts to meet up fell through, this Soobin and Rexha collab has been a long time coming and was such a hype moment for fans.
Soobin and Rexha started stanning each other years ago, despite having never met in person. Back in 2020, the two singers professed their love for each other during an Instagram Live, where they also talked about possibly collaborating on some music one day. Then in 2022, Soobin came close to meeting Rexha when TXT attended the American Music Awards, but sadly he had to fly back to South Korea before they could plan a meetup.
Well, after years of anticipation, the Soobin/Rexha moment finally arrived on March 3. Rexha shared a joyous video of herself and Soobin rocking out to her latest single "Heart Wants What It Wants."
The duo also posed for a couple adorable pics together, and Rexha even shared a video of the moment they met, which included Soobin gifting her a copy of TXT's latest album, Temptation.
Afterward, Soobin shared how nervous he got around his idol. "I was OK, but when I entered her house, then I saw Bebe's face, my hands started shaking a lot," he said. "Even when I gave her our album my hands were trembling."
The fanboy moment gave him a new realization about how MOAs feel when they meet him. "Ah, I get why MOAs hands shake when they're at our fansigns. I realized: This is how they feel," he added.
Here's hoping the two singers also found some time to chat about that collab they discussed all those years ago, because this sweet friendship is sure to lead to some sweet music as well.