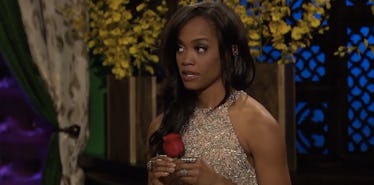 Here's Everyone Who Was Eliminated During Week 4 Of 'The Bachelorette'
ABC
Well, Bachelor Nation, after a brief hiatus (due to NBA playoffs) we're finally back with our front-row seat to Rachel Lindsay's search for love.
To recap, Season 13 of The Bachelorette began with 31 suitors all vying for Rachel's heart. At the start of week four, there were 18 guys left.
Week four started off with a lot of drama. Basically, the guys were fighting in the house and Rachel got super emotional. Her conversation with a producer off-screen will honestly break your heart.
At one point, viewers hear her talk about the pressure of being the first black Bachelorette. She says, "You have no idea what it's like being in this position."
The producer responds, "I don't. I don't at all."
Then Rachel says, "I'm not talking anymore."
After that, it's time for a rose ceremony!
So which men packed their bags and got sent home this week?
It turns out, there was only one elimination.
Kenneth, aka Diggy, did not receive a rose on Monday night's episode.
In case you don't remember, Diggy is the 31-year-old senior inventory analyst.
A lot of fans were honestly pissed Diggy got the boot instead of more controversial contestants (*cough* Lee *cough*), and it seemed likely there would be another rose ceremony at the end of the two hours, but alas, we will have to wait until next week.
Dean emerged as a frontrunner in week four, after opening up about his mom's death on a super intimate and emotional one-on-one date.
After that, Rachel took the guys on a group date to a spelling bee.
The episode ended with a controversy surrounding contestants Kenny and Lee, and previews for next week's episode teased ever more drama between the two guys.
It definitely seems like one or the other will be sent home in week five, and if Twitter has anything to say about it, it should be Lee.