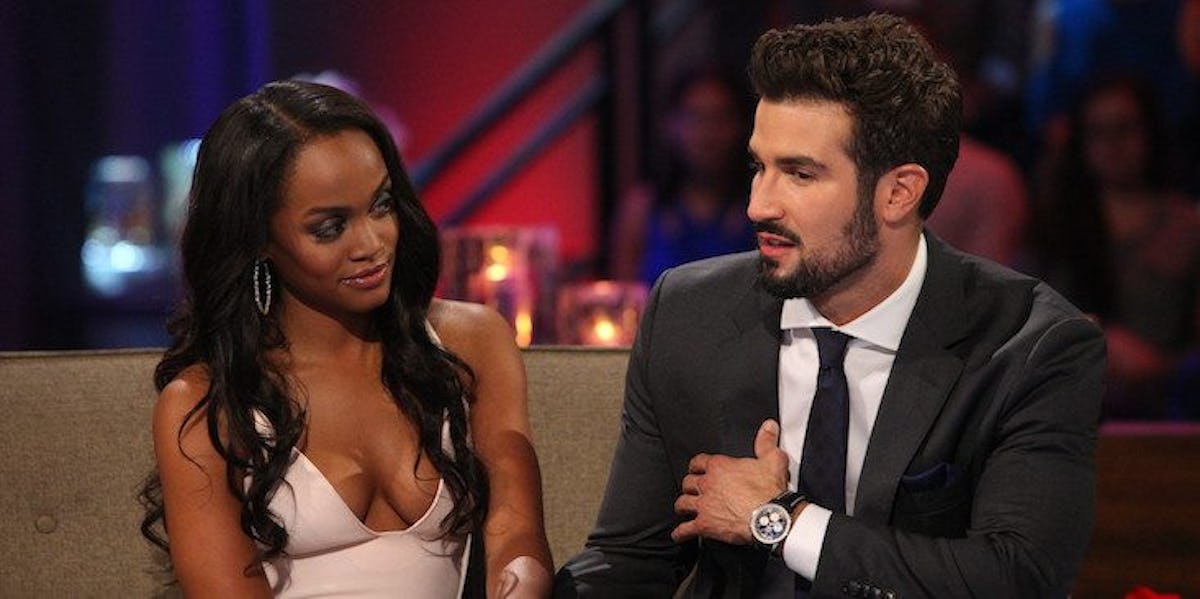 'Bachelorette' Rachel Posts Adorable Instagram To New Fiance: "You Are My Better Half"
ABC/Paul Hebert
So apparently Rachel Lindsay is really committing to this whole "being in love with Bryan" thing for the time being. To be fair, now-former Bachelorette Rachel's Instagram to Bryan is pretty cute. It's just hard to take seriously after Monday night's Bachelorette finale made Bryan seem like such an obvious consolation prize to Peter.
But if Rachel's just playing the part of happy bride-to-be, she's playing it very, very well. On Tuesday, the day after the nation watched Bryan's proposal to her, Rachel posted a gushing Instagram about how happy she is with her new fiance. She wrote in the caption,
This day was a dream come true! Bryan you have shown me a love that I've never had before. You've challenged me in ways I could have never imagined. This road was not easy but you have been my rock and still are my rock through it all. We found love in such a public way but the depths of our love is something that only we will know and will have between each other forever. I would do it all over again if it led me back to you. You are my better half and thank you for being just who you are and never changing for anyone. Thank you for always taking the high road and thank you for loving me unconditionally. I love you with all of me @thebryanabasolo and more than I could ever define to you! I am so excited to spend forever with you.
Wow, OK, Rachel is really going for it. I personally cannot imagine ever being that passionate or committed to Bryan from Miami, but whatever makes you feel fulfilled in life, girl. It's no Rachel and Peter, but I guess we all have to settle if we really want that ring. (Which, by the way, Rachel's ring from Bryan is freakin' huge.)
And a ring is the one thing Peter just couldn't give her. So, yeah. Rachel and Bryan. It's fine. I guess. As long as Rachel is (or is pretending to be) happy!