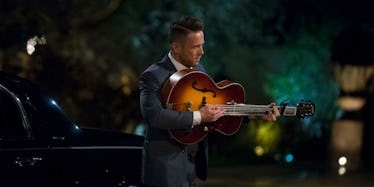 4 Things You Need To Know About 'Bachelorette' Contestant Lee
ABC/Paul Hebert
If you watched last Monday's episode of The Bachelorette, you should already know Lee is the worst.
I know it. Rachel Lindsay knows it. We all know it.
Lee made this clear to everyone when he provoked Kenny into confronting him, and then lied to Rachel about things that went down in their "fight." Clearly, The Bachelorette producers have found their villain.
But, if for some reason you need more proof 30-year-old Lee Garrett should be sent home from The Bachelorette ASAP, allow me to paint you a fuller picture.
You've probably heard about this already, but it's worth bringing up again. Several outlets, including HuffPost, have screenshots of what looks like pretty racist tweets from Lee.
Tweets reportedly include statements comparing the KKK to the NAACP, calling feminists ugly, and declaring an outright hatred of Islam.
As many fans have pointed out, it seems likely ABC knew of Lee's past prejudices, and brought him on the show with the first black Bachelorette for the drama. Unfortunately, it seems to be working.
Since the news of the tweets broke, Lee has made all of his social media accounts private.
2. He never saw The Bachelorette before he was recruited for the show.
In an interview with The Hollywood Reporter, Lee revealed he did not audition for the show, but was recruited by a scout. (Which would fit into the theory ABC wanted a "racist" for the show.)
Lee said,
I got a message on Facebook from one of the show scouts saying, 'Lee! What would you think if I asked if you would be interested to try out for The Bachelorette?' It kind of shocked me. I thought, 'Me?' I had never seen the show before, so I was honest and told them I don't know much about it and I don't see myself as the type of guy to really go on a show like that.
3. He's originally from Mississippi.
Lee also revealed in that interview he grew up in Mississippi, and he's "country to the bone." According to his Twitter bio, he now lives in Nashville.
4. He's an aspiring singer/songwriter and might also work at a bar?
We know for sure Lee wants to be a singer/songwriter based on that first episode and his ABC bio. The bartender thing is coming from a LinkedIn profile I think *might* be his, but have no confirmation on.
Here's to hoping we only have to endure one more week of Lee!