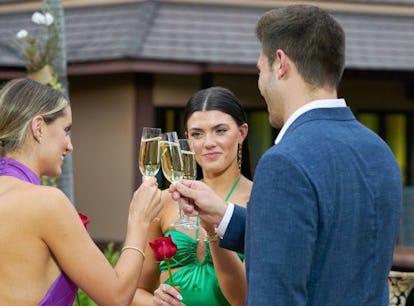 Bachelor Nation Is Demanding Justice For Gabi After Zach's Controversial Choice
Um, the math isn't mathing, Zach.
Bachelor finales always deliver the drama, but the last episode of Season 27 may take the cake. After a messy 10 weeks, Zach Shallcross finally chose his fiancée in the March 27 finale, proposing to Kaity Biggar, but it was the woman he didn't chose that really got fans' attention. Before Zach got down on one knee for Kaity, he had to break up with Gabi, and the soul-crushing split was incredibly hard to watch. Immediately, Bachelor Nation overtook Twitter with posts supporting Gabi, whom the fandom felt got totally slighted by this whole season.
The upsetting part of Zach's breakup with Gabi is that she kind of saw the writing on the wall even before he said the words. She even tried to stop him mid-breakup, saying she didn't need to hear the rest of his parting words. Although she had an idea Zach was going to choose Kaity in the end, Gabi left the show in tears, accusing Zach of stringing her along when he always knew he was going to propose to Kaity. "I've been strung along this entire time now, for what?" Gabi exclaimed on her car ride home. "What really pisses me off is that I f*cking knew. I f*cking knew! When your gut speaks, you should listen to it."
Most fans agreed with Gabi's assessment, pointing out that Zach had already said he'd made up his mind on picking Kaity before telling Gabi that he was still unsure and hadn't decided who to pick until the night before the proposal. After seeing Gabi's disappointment, Bachelor Nation rallied behind the runner-up online.
Not only did Gabi feel she was strung along by Zach, but she also confronted him for revealing to the world that they hooked up in the fantasy suite after they previously agreed to keep what happened in there between themselves. Gabi said she felt violated by that betrayal, which led to an uncomfortable apology from Zach.
"The way I handled things was completely wrong," Zach told Gabi. "My mind felt, which is wrong, that I needed to let everyone know that I went against my word. In reality, it hurt you. There's nothing I can do to right that wrong, but I want you to know that the last thing I wanted to do was to hurt you like that. It was me purely trying to be honest, but that doesn't matter, because it hurt you more. From the bottom of my heart, I'm sorry."
After all that heartbreak, it was a bit awkward when the finale suddenly shifted gears to celebrate Zach and Kaity's new engagement. The show may claim to be all about love stories, but this season, it's clear fans are more interested in getting some justice for Gabi than anything else.