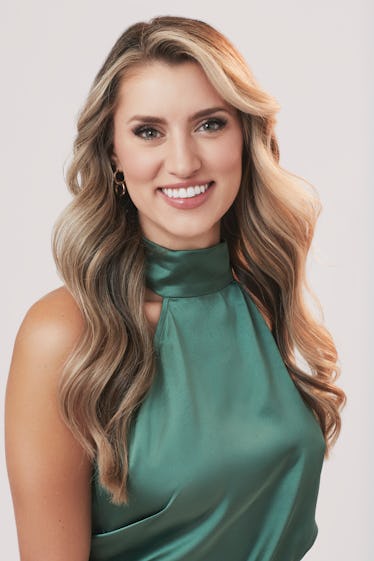 This Bachelor Contestant Has 1 Major Thing In Common With Zach
It would certainly make their future together much easier.
ABC
In the world of The Bachelor, the more practical relationship questions often don't make their way to the screen. One biggie that's almost always missing from their one-on-one conversations: Where do you live? Fortunately for Kaity Biggar, one of the contestants on Zach Shallcross' season of The Bachelor, that isn't a problem.
Kaity is a native Canadian, who lived in Ontario before moving to (drumroll, please) Austin, Texas. That's right: Both Kaity and Zach live in Austin, making it very easy for the two of them to start a life together, if they end up getting that far.
Kaity is going into this season with romance at the forefront of her mind — in other words, you could say she's there for the right reasons. "I truly hope to find love. I have so much love to give to the right man," she told ABC. According to her cast bio, Kaity has a list of nonnegotiables for her "Prince Charming." He's gotta be funny and humble — and if he doesn't want to start a family, it's a "dealbreaker" for her.
Here's everything you need to know about Kaity as she starts this ~romantic journey~ with her fellow Austinite, Zach.
Bachelor Nation's Kaity Biggar's Real Job
In Kaity's Instagarm bio, it says she is a travel nurse. (FYI, ABC has her career listed as an ER nurse.) According to her Facebook, in January 2020, she started working as an ER nurse at Kingston Health Sciences Centre in Kingston, Ontario, but there's no update for the role that brought her to Austin, Texas.
Bachelor Nation's Kaity Biggar's Instagram & TikTok
Kaity keeps her Instagram pretty active, and based on what she posts, she loves traveling, concerts, and girls nights out. She even went to Coachella in April 2022, so maybe she'll be joining the rest of Bachelor Nation at Stagecoach in 2023.
Kaity's TikTok isn't updated quite as regularly, but she has some videos about traveling, her puppy, and her job on her page. In her most recent video, posted on Jan. 23, Kaity posted about The Bachelor, albeit cryptically. "I feel like falling in love #fyp #thebachelor," she wrote alongside a video of her dancing in a coffee shop.
Bachelor Nation's Kaity Biggar Facts
The 28-year-old was born in November, making her a Scorpio. In her bio, she says that she was a former figure skater who still loves an adrenaline rush — whether that involves sliding into someone's DMs or going on a rollercoaster. It seems like Kaity's taste for adventure could take her far this season.
Season 27 of The Bachelor airs Mondays at 8 p.m. ET on ABC.