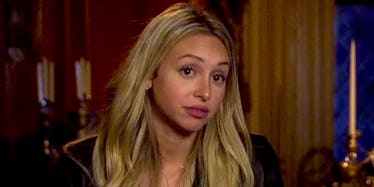 'Bachelor In Paradise' Contract May Make Corinne's Planned Lawsuit Difficult To Win
ABC
The Bachelor in Paradise scandal seems to be just ramping up after news broke earlier this week that contestant Corinne Olympios has hired a high-powered lawyer to help her go over what occurred during the show's production.
In a statement to TMZ regarding the incidents that transpired on Bachelor in Paradise, Corinne said:
I am a victim and have spent the last week trying to make sense of what happened on June 4. Although I have little memory of that night, something bad obviously took place, which I understand is why production on the show has now been suspended and a producer on the show has filed a complaint against the production. As a woman, this is my worst nightmare and it has now become my reality. As I pursue the details and facts surrounding that night and the immediate days after, I have retained a group of professionals to ensure that what happened on June 4 comes to light and I can continue my life, including hiring an attorney to obtain justice and seeking therapy to begin dealing with the physical and emotional trauma stemming from that evening.
The move seems to suggest Corinne is considering a lawsuit for the alleged incident that took place while filming, but a closer look at the contract the network makes its Bachelor in Paradise contestants sign could make that difficult for Corinne.
According to TMZ, who claims to have gotten a hold of a Bachelor in Paradise contract, the legal document reportedly requires contestants to waive their right to sue producers over the following claims:
Negligence, personal injury (including without limitation, any injuries arising out of the transmission of a sexually transmitted disease or unwelcome/unlawful contact or other interaction among participants).
Elite Daily reached out to ABC to confirm the accuracy of these documents and did not hear back at the time of publication.
Following the alleged "misconduct," Bachelor in Paradise has suspended production indefinitely. Warner Brothers provided Elite Daily with a statement on the suspension:
We have become aware of allegations of misconduct on the set of Bachelor in Paradise in Mexico. We have suspended production and we are conducting a thorough investigation of these allegations. Once the investigation is complete, we will take appropriate responsive action.
From what we know so far, Corinne was supposedly unable to give consent during an alleged sexual encounter that reportedly took place with contestant DeMario Jackson while the crew of BIP was filming them.
And it sounds like a court battle may indeed be in the near future, as DeMario affirmed that he too is taking legal action in his own statement to E! Online on the incident:
It's unfortunate that my character and family name has been assassinated this past week with false claims and malicious allegations. I will be taking swift and appropriate legal action until my name is cleared and, per the advice of legal counsel, will be seeking all available remedies entitled to me under the laws.
Although the contract clause makes Corinne's case (if she chooses to bring it to court) sound grim, there is hope. TMZ pointed out that in similar cases, courts have ruled the producer exemption clause unenforceable if they were found to be acting recklessly. TMZ does not make clear to which cases, television shows, or individuals this has applied.
So if this whole thing does go to court, it sounds like it will all hinge on Corinne's lawyers and whether they can prove that producers were reckless in their handling of the situation.
Elite Daily reached out to Corinne's representative regarding her court plans and did not hear back by the time of publication.