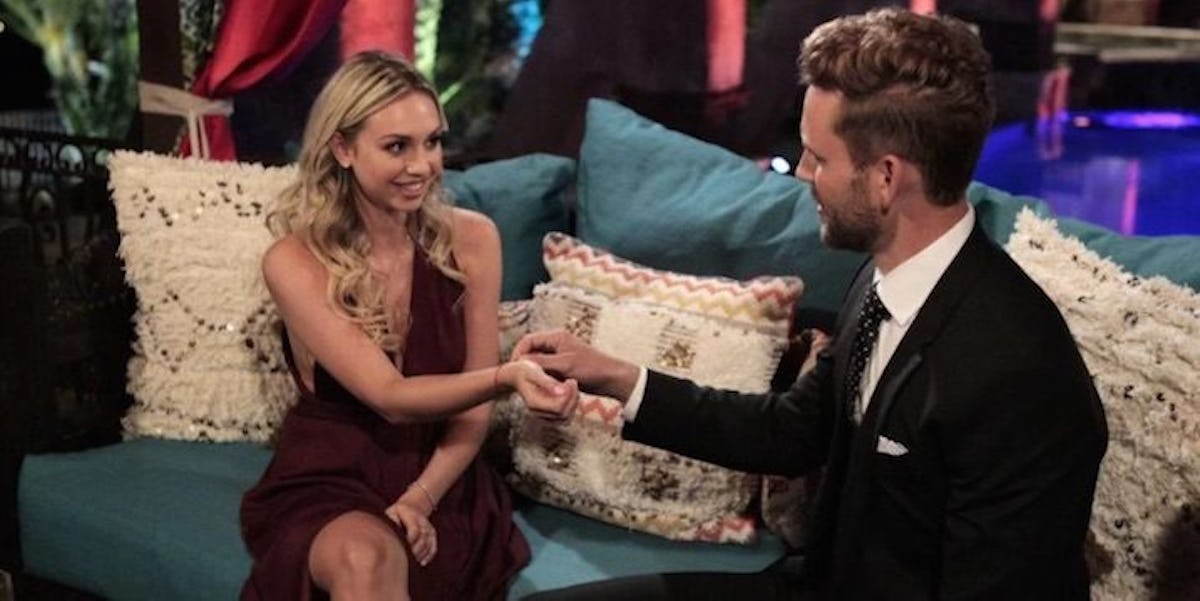 'Bachelor' Nick Viall Reveals 3 Frontrunners, And Corinne Isn't One Of Them
ABC
Corinne fans, take a seat.
I know, I know. She's arguably the most entertaining contestant on season 21 of "The Bachelor," and we never want to see her go, but as the number of contestants dwindles, Nick Viall has to start making serious choices about his future.
Plenty of screen time in the first four episodes was dedicated to Corinne's wild/inflatable/sleepy/sexual behavior, as well as other women's reactions to her.
While Taylor, Christen and Sarah focused on putting Corinne in her place, hopefuls like Rachel stayed out of the drama and kept their eyes on the ol' flesh prize.
On Monday night's episode, Rachel and Nick had a one-on-one in New Orleans where they danced in the street like damn Disney characters.
When the episode was shot back in October, ET interviewed Nick to see whom the 36-year-old considered his frontrunners.
He told the site,
Rachel's been kind of a frontrunner since day one… From the very beginning [she was] one of the easiest ones to kind of, you know, talk to, jive with. She's just, she's so… in her element in any situation. I love a woman who knows how to have a great conversation and just has a really strong personality and a great smile. She certainly has all of those.
Rachel, unlike many of the May/December roses Nick's been handing out these days, is the oldest contestant on the show (relax, she's 31). She's a lawyer and, should she successfully win the final rose, would be the first black woman in the show's 15-year history to do so.
Nick describing the success of interacting with a woman his own(ish) age like it's some novel discovery is as common and unsurprising as it is supremely frustrating.
He probably doesn't deserve her. But whatever. This is where we're at, now.
Nick also had nice things to say about Danielle L., predominantly that she's "very beautiful," and Vanessa, citing their "really good chemistry."
The Wisconsin native knows he has to start handing out roses based on which women in Bachelor Mansion stand the best chance of being not only a life-long love, but a life-long collaborator and compromiser (yes, I hear myself. I cannot stop).
He told ET,
I want a woman I can have great conversations with. I love the physical aspect of relationships, but if you are talking about a relationship that lasts a lifetime, you definitely need that emotional and cerebral connection.
He's getting warmer, but the temptation to gravitate toward a 24-year-old who's still carrying the crushing burden of building the foundation for her entire adult life and figuring out what she wants in the long run is hard to resist for someone like Nick, who has struggled with commitment in the past.
On the bright side, none of this matters and everything is fake.
Citations: EXCLUSIVE: 'Bachelor' Nick Viall Reveals His Three Frontrunners (ET)