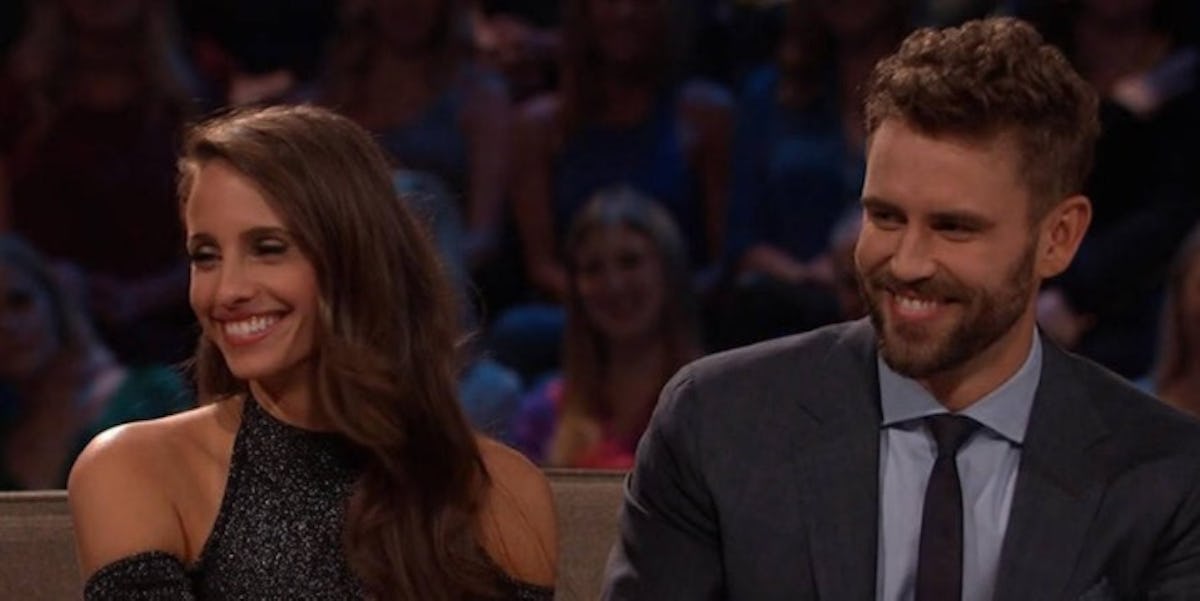 'Bachelor' Nick Viall Reveals The Exact Moment He Knew Vanessa Was The One
ABC
Although we all believe Nick Viall and Vanessa Grimaldi looked positively in love misery together at the post-"Bachelor" segment "After The Rose," I guess those cute engagement selfies make up for that.
Because posting about how happy you and your SO on social media is always a sign everything is perfect in your relationship. *Cough, no it isn't, cough*
Naturally, the question on everyone's mind is exactly when did Nick decide to go on bended knee with an $100,000 engagement ring for Vanessa?
In a blog post titled "Nick Viall's Final Bachelor Blog: The Exact Moment I Knew Vanessa Grimaldi Was The One," Nick reveals the time and place he figured out he needed to propose to Vanessa.
However, like a poorly written fifth grade essay, his thesis doesn't exactly appear in the writing -- at no point does Nick confirm this exact moment.
I'm sorry! I didn't mean to make you cry, Nick!
That being said, I think the best possibility of this "exact moment" can be found in the description of his last date with Vanessa (well, not last last date... just the late date on the show -- they'll never break up... at least, not this week).
He wrote,
My final date with Vanessa turned out to be the most significant date of my life. Sometimes no matter how strong your imagination is and how many days you spend picturing a life with a woman, she turns out to be so amazing that only being there with her in the moment, holding her in your arms, can you find the truth in your heart.
Excuse me while I gag profusely.
Nick then went on to talk about how attracted he was to Vanessa when she basically looked like Dudley Do-Right,
It was so cute to see her jump on that horse like a Canadian Mountie. Out of all the stunning settings I had gotten to share with these women around Finland, riding up that mountain on horseback was the most beautiful. I tried to describe it but the only word that came out of my mouth was 'wow.' It's a place on Earth you have to see to truly appreciate.
"Wow." So eloquent, this guy.
Another romantic hallmark of his date? Meeting the "real Santa." I'm starting to think Nick has been Buddy the Elf the entire time. He wrote,
Meeting the real Santa? Another first I'll never forget. The history of the holiday and Santa Claus is actually intriguing and ingrained in the culture in this part of Finland. I'll never take another picture with a mall Santa after having a cup of joe with the confirmed real big guy.
Someone is going to have to tell Nick the truth about Santa. Vanessa, set aside an hour or so. Bring puppets in necessary.
Nick continued to talk about how he told her he was kinda still seeing someone at the time,
Throughout the day up until we said goodbye that evening, Vanessa stayed true to herself and was completely open about both her love for me and her fear about how all this could end. In those moments you search for the right words to say to this person you care so much about but at the same time have to be honest about other relationship you're in. It wasn't what she wanted to hear, but it was the truth.
What I personally think won Nick over? You're not going to believe this, but I think it was just a jar of tomato sauce.
You didn't see it at home but Vanessa brought a jar of her nonna's homemade tomato sauce all the way from Montreal and gave it to me that night. I know what you're thinking and yes it really does taste as amazing as 'nonna's homemade sauce' sounds.
No, you don't know what I'm thinking, Nick.
What I'm thinking is how Vanessa on a horse, meeting a dude dressed as Santa, telling Vanessa you're involved with another woman and tomato sauce made you want to propose to her.
Citations: Nick Viall's Final Bachelor Blog: The Exact Moment I Knew Vanessa Grimaldi Was The One (People)