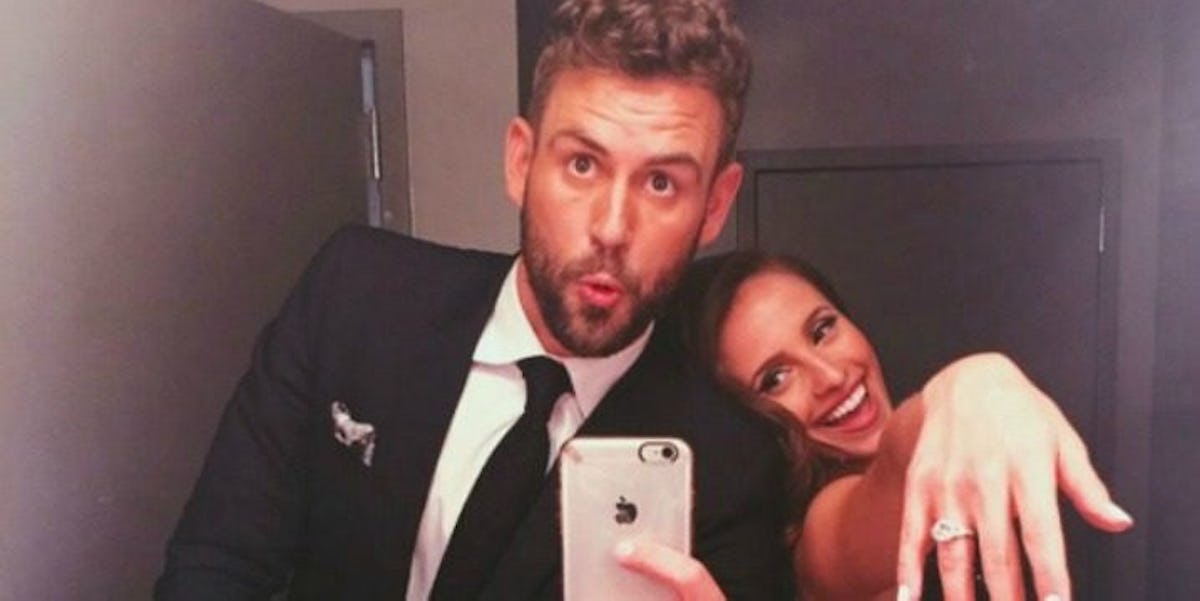 'Bachelor' Nick And Vanessa Respond To Criticism Of First Public Appearance
Instagram
"Bachelor" Nick Viall and his fiancée Vanessa Grimaldi may finally be engaged, but that hasn't stopped them from being criticized in the public eye.
Monday night on "The Bachelor" finale, the 36-year-old Viall got down on one knee and proposed to the 29-year-old special education teacher from Quebec, Canada.
Grimaldi said "yes," and the pair appear to be well on their way to spending the rest of their lives together.
However, Nick and Vanessa are reportedly feeling the heat following their appearance on "After the Final Rose."
Apparently, some folks feel "The Bachelor" and his fiancée didn't appear that infatuated with one another. ET's Lauren Zima caught up with Nick Viall and Vanessa Grimaldi in LA on Tuesday to talk about the criticism, and the couple had an awesome response.
Speaking on their "After the Final Rose" segment, Viall said,
Should we have? Quite honestly, all we did was answer [host] Chris' questions and Chris wanted to ask us a lot of questions about how it's been, so we just decided to be honest. We're not going to show up and be like -- you know, if we get asked questions like, 'Have there been difficult times?' Yeah, of course. Our relationship so far has been me dating 29 other woman and having to watch that back while having a relationship long-distance. I don't know if you think that might be easy. It's not. We just decided to be upfront about it. We're just a very practical couple.
I don't know what all the criticism is about, this is arguably the most likable Nick Viall has been during season 21 of "The Bachelor."
The 36-year-old continued,
There's no guarantee. Unfortunately, in this day and age, relationships in life are hard. Unfortunately, even after people get married, with how things are, it's not uncommon to get divorced. We're just realistic about it, and I think that's what we have going for us. I think sometimes when you pretend things, you play house, that can set you up for disaster. I have the confidence we're going to face things head on, and we're OK to admit that there's a fear of things not working out, but we're going to give it our best to make sure that it does.
The 29-year-old Grimaldi also opened up about her recent engagement. She said,
I wasn't going to say yes to a proposal if I wasn't sure I could picture a life with Nick. I do picture that life. We're happy, we love each other -- of course there's things we still need to figure out. There's things we need to figure out about ourselves too after the show, but I think my fear would be it not working out in the end.
Nick Viall also spoke about a timetable for the actual wedding day. He said,
I don't think we're against the idea, but I think those are conversations we'd have to have once we decided to have a wedding. We don't pretend that we got engaged after dating for a year, or a year and a half, or even six months. We're happy that we made the decision that we did, but we're also realistic -- we're OK with knowing that we have a lot to get to know about each other. There's a lot of experiences as a couple, normal things ... that we look forward to doing -- like having dinner in public, going grocery shopping. I think we just have to experience those things before we even consider.
Congrats, guys! Take your time!
Citations: EXCLUSIVE: Nick Viall and Vanessa Grimaldi on Awkward 'After the Final Rose': 'We Just Decided to Be Upfront' (Entertainment Tonight)