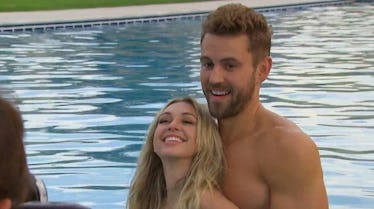 'Bachelor' Nick Viall Gets Advice On Dating Corinne: 'You Need To Run Away'
ABC
From licking whipped cream off of Corinne's boobs to crying his eyes out for no real reason, it's been one hell of a season so far for "The Bachelor" Nick Viall.
Recently, everyone's favorite "Bachelor" contestant Corinne Olympios joined "The Ellen DeGeneres Show" to talk about her time on set and all things Nick Viall.
Speaking with two of Ellen's producers, Corinne defended her controversial moments on the show. She said,
The bounce house, it was just good ol' fun. We were just bouncing around in the bounce house and making out. I mean, everybody makes out with Nick. It was supposed to be something silly, sexy, funny for me and Nick to enjoy. I will admit, watching it back, it was a little not what I wanted it… not the way I wanted it to go really. But you know what? I'm only human, it happens. I tried to do something cute and funny and it turned into a little bit too sexy of a thing.
Well, Nick Viall recently spoke with Kelly Ripa on the set of "Live With Kelly" to discuss his time with Corinne and the rest of the contestants on "The Bachelor."
Kelly Ripa took it upon herself to give some advice to the 36-year-old "Bachelor." Speaking about Corinne specifically, Ripa said,
I was reading some of this stuff, the facts about the selection of girls you had to choose from. OK? So one girl is 25 years old and still has a nanny. You need to run away... you need to run, OK? Another girl showed up in a shark/dolphin costume... I don't know how that is possible, but again, you have to run. One girl slapped you, one girl wanted to choke you.
It didn't stop there, though, as Kelly Ripa continued to scold Nick like a disappointed mom.
She said,
One girl threw up, yet you still made out with her. You have to try to find love outside of TV. We used to meet, like, at the club or at work.
I mean, Ripa makes more than a few good points, doesn't she?
Guess we'll just have to wait and see if Nick is able to pick up the pieces and really find love by the end of this season of "The Bachelor."
Citations: Nick Viall Gets Some The Bachelor Advice From Kelly Ripa: "You Have to Run" (E! News)