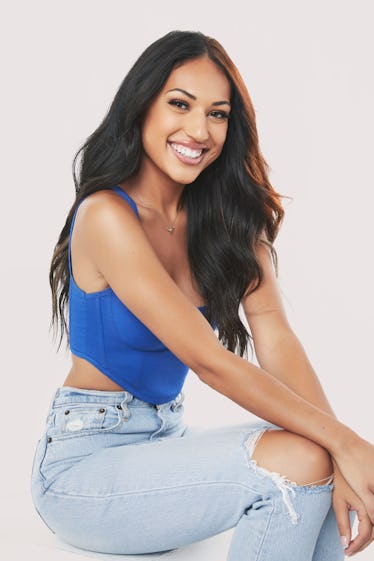 This New Bachelor Contestant Brought The Cutest +1 To The Mansion
ABC/Ricky Middlesworth
It's important to make a good first impression on Night One of The Bachelor, and sometimes you need a little extra help to do so. Bachelor Nation has seen all kinds of wild limo entrances over the years, ranging from sloth costumes to most recently ear-licking in the Season 27 premiere (looking at you, Lekha). But one Season 27 Bachelor contestant, Mercedes Northup, may have won the limo entrance game with her adorable sidekick.
Henry the Pig joined Mercedes when she made her entrance to meet Zach, and although Henry doesn't need a reason to show up (his cuteness is more than enough!), Mercedes did have one for him: "I am from Iowa, I grew up on a farm, and I actually showed pigs growing up," she explained to Zach, who seemed a little overwhelmed to have a pig join the Night One festivities.
Mercedes seemed pretty convinced that Henry was going to help her earn the First Impression Rose. Unfortunately for her, that honor instead went to Greer Blitzer. But Mercedes did receive a rose during the first Rose Ceremony, so she'll be continuing on her Bachelor journey... presumably without Henry. Here's what to know about Mercedes.
Bachelor Nation's Mercedes Northup's Real Job
Mercedes is very busy; according to her ABC bio, she has four jobs to support herself. In her bio, her career is listed as non-profit case manager, and, according to her LinkedIn, she also works in social media marketing and food service. She graduated from Middle Tennessee State University in 2021.
Bachelor Nation's Mercedes Northup's Instagram
Mercedes mostly posts solo shots on Instagram, including her favorite looks and her ski vacations. She also has a few posts featuring her dog Lola, her friends, and her family. And, of course, Mercedes' pig-showing career makes an appearance in her grid.
Bachelor Nation's Mercedes Northup Facts
Mercedes is from Iowa, but she lives in Nashville now. She's 24 years old and her family is important to her; in her ABC bio, she says she's close with her mom and loves to have family dinners on Sundays. She ended her last two relationships because she knew they weren't "her person," so hopefully Zach fits the bill better for her.
Season 27 of The Bachelor airs Mondays at 8 p.m. ET on ABC.