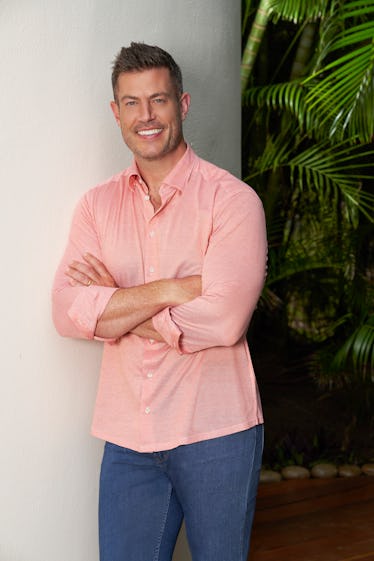 Jesse Palmer Gets Fully Cursed Out In The BIP Season 8 Trailer
ABC, you have my attention.
ABC/Craig Sjodin
Once summertime hits, Bachelor Nation has just one thing on their minds: Bachelor in Paradise. The looser, oftentimes messier Bachelor and Bachelorette spinoff never fails to ignite unexpected relationships, steamy hookups, heartbreaking breakups, and some of the franchise's scariest fights. With Bachelor in Paradise officially confirmed for Season 8 on its home network of ABC, here's all the intel fans should know about Bachelor in Paradise Season 8, including its premiere date and this season's dramatic cast.
For nearly a decade, Bachelor in Paradise has churned out seasons each year like clockwork. The only year between its premiere in 2014 and the present that the Mexico-set dating show skipped was 2020, due to the global lockdown making production impossible. But now that TV shows are back to filming safely, there's nothing stopping Season 8 of BIP from arriving in 2022. On April 7, the official Bachelor in Paradise Twitter account shared that the season is officially happening. However, Season 8 is uncharacteristically not airing in the summer. Instead, Season 8 will debut on Sept. 27 to help warm up the fall.
Bachelor In Paradise Season 8's Premiere Date
Every past season of Bachelor in Paradise has premiered in early to mid-August, but Season 8 is a bit different. This time around, the season will launch at the end of September — on Tuesday, Sept. 27, to be exact. Although it's not confirmed why the start date was pushed back, it's possibly because Rachel Recchia and Gabby Windey's dual season of The Bachelorette, which kicked off on July 11, started much later than previous Bachelorette seasons. Traditionally, Bachelorette seasons debut in May and then end in late July or early August, leading into BIP perfectly. Since Rachel and Gabby's season began over a month later than usual, it's possible that's why BIP has to start later as well.
Bachelor In Paradise Season 8's Cast
ABC finally unveiled part of the new season's cast in a press release on Aug. 26. Notably, Season 8 will have the largest number of initial contestants yet, with 19 Bachelor Nation faves flocking to the beach. Most of the cast hail from recent seasons, with Clayton Echard's Bachelor season getting the most love. The cast list is as follows: Andrew Spencer, Brandon Jones, Brittany Galvin, Casey Woods, Genevieve Parisi, Hailey Malles, Hunter Haag, Jacob Rapini, Jill Chin, Justin Glaze, Kira Mengistu, Lace Morris, Logan Palmer, Michael Allio, Romeo Alexander, Serene Russell, Shanae Ankney, Sierra Jackson, and Teddi Wright.
The cast announcement video also confirmed Jesse Palmer will be returning to host the new season.
On Aug. 29, Victoria Fuller was also revealed to be part of the cast during her appearance on The Bachelorette's "Men Tell All" alongside Andrew, Genevieve, and Serene. Also, the first trailer for the season, which aired during the "MTA," hinted a few more cast members who hadn't yet been officially announced, such as Aaron Clancy and what loos to be at least one of the Young twins from Rachel and Gabby's season.
Bachelor In Paradise Season 8's Trailer
Speaking of the trailer, it reveals more than just cast members. Fans are in for a wild ride full of hookups, drama, and a group of women cursing out Jesse Palmer, for some reason.
Get ready for some summery drama in the fall, when Bachelor in Paradise Season 8 premieres on Sept. 27 on ABC.
This article was originally published on