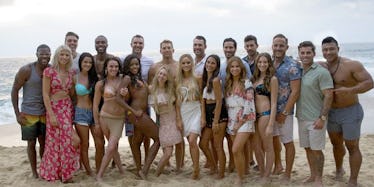 'Bachelor In Paradise' Will Air A Live Finale That Will Answer All Your Questions About This Season
ABC/Paul Hebert
Do you guys think the Bachelor in Paradise producers sat down in an ABC conference room and said: "How can we make this season more of a disaster?" That is really the only explanation I can come up with for this Bachelor in Paradise live finale, which is apparently happening. Executive producer Chris Harrison announced the plans for a live finale in front of a studio audience, according to an interview with Entertainment Weekly.
Harrison said live finale is a solution for Bachelor in Paradise's lost production time after filming was temporarily halted to investigate allegations of sexual misconduct. Harrison explained,
One of the things that will be a little different is our time in Paradise was cut down and compacted, therefore the show will extend back into the real world. It's going to be a lot of finding out what's been happening because things have been continuing back in the real world since the show wrapped up in Mexico. It's going to be interesting and I think a lot more fun for all of us. It's going to have a live studio audience.
The live finale will not feature a reunion between Corinne Olympios and DeMario Jackson — but that reunion is coming. Harrison is planning a separate "reunion special," where he will interview Corinne and DeMario together. Harrison said that interview will air earlier in the season, because "it's something that needs to be dealt with long before the finale."
We also recently learned from Harrison that Season 4 of Bachelor in Paradise will be airing the footage of DeMario and Corinne, despite the highly controversial incident which led to allegations of sexual misconduct. (The footage of the incident was reviewed, and no charges were filed.) However, the footage of the incident itself will not be aired.
Harrison said,
We had already shot for three days [before the shutdown] and a lot had actually happened — a lot of people had arrived, there had been dates, we'd gotten to the point where there was about to be our first rose ceremony — so we had a week's worth of stuff [that] we didn't want to just throw that away because that's what impacted the show and it's what led to the shutdown.
So it's going to be an interesting season of Paradise to say the least.
As for that live finale, Harrison explains that it won't be the entire episode, but a short segment after the Final Rose.  He said,
The live [finale] at the end will be more like After the Final Rose where we're live, the show is wrapping up, and there will be people involved that were on the show because we have to find out where everybody is. I don't think you can put those into usual Bachelor boxes because they're going to be so different.
Personally, I can't see an episode of Bachelor, Bachelorette or Paradise without that famous ABC editing in post-production going well at all. I can't wait to watch this beautiful disaster.