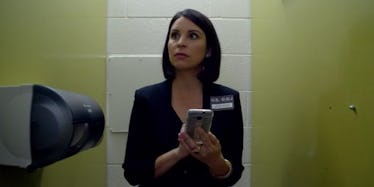 Beth Dover Reveals What's Next For Linda On 'Orange Is The New Black' – EXCLUSIVE
Netflix
Orange is the New Black just wouldn't be the same without Beth Dover. Before Season 5 of Netflix's hit original series, you might have recognized Dover as Linda from Purchasing, the low-key evil woman from Management & Correction Corporation who's hooking up with Caputo. But after last season, Dover has become Linda Ferguson, Litchfield's unexpected inmate, Boo's new arm candy, and a new staple character in the cast. But what's next for slightly-less evil Linda in Orange is the New Black, Season 6? Elite Daily had the chance to speak with Beth Dover and find out.
Dover couldn't give me a 100 percent guarantee that Linda Fergurson will be back for Season 6 — but she seems pretty sure. When asked if we'll be seeing more of Linda next summer, Dover replies, "They start shooting in August, so I'll know for sure by then, but you know I think you might."
I think we might, too, considering how important Linda from Purchasing has become to the Orange Is the New Black team. When we left off, Linda was being shipped off to a new prison along with all the other Litchfield inmates, unable to convince the SWAT officers that she works for MCC.
It seems likely that someone will realize Linda's not a (convicted) criminal before she gets put behind bars again, or that at least Caputo would come to her rescue, but who knows? But there is one thing Dover is hoping for, besides just a return to a hit series: She hopes that wherever Linda ends up in Season 6, she won't be the same sociopathic Linda who we came to know and hate from Season 4.
Dover says,
I think [Linda] had an eye-opening experience in there because she realized what the prison was actually like, and what the prison-industrial complex actually is, and was slightly horrified by it. I hope, we don't know because we don't know what's going to happen, but I hope that maybe she can become an advocate for change.
That certainly would be an interesting turn — perhaps Caputo and Linda could work together to actually implement some of those demands Taystee negotiated. It's hard to picture Linda from Purchasing as a champion for prisoners' rights, but stranger things have happened.
"Or maybe she'll go back to being a jerk," Dover adds with a laugh. "It'll be interesting to see. But I definitely have sympathy for my characters so I would like to think, yes, she has been changed by the experience of being in prison."
Of course, it's no small task to find sympathy for a character who, it was revealed in Season 5, let one of her best friends freeze death. But when I bring up Linda's dark backstory, Dover has a rationale for that, too.
"I was like, 'She's a survivor. She's not a sociopath, she's a survivor,'" Dover tells me, before it admitting, "No, it's a crazy backstory, it is."
Whether or not Linda will be her sociopathic college self or a new-and-improved prison rights activist in Season 6 remains to be seen! Season 6 of Orange is the New Black will begin filming this month and is expected to premiere on Netflix Summer 2018.
However, you don't need to wait until next summer to see more of Beth Dover. In addition to her recurring role on Comedy Central's Another Period, Dover will also be in Netflix's Wet Hot American Summer: Ten Years Later, which premieres this Friday, Aug. 4.
Dover will be reprising her role from Wet Hot American Summer: First Day of Camp: Shari, the distant girlfriend of Joe Lo Truglio's character, Neil. It's ironic of course, as Dover and Lo Truglio (known for his role as Charles Boyle in Brooklyn Nine-Nine) are married in real life, and have been since 2014. The two recently welcomed their first child, Eli, just last year.
Dover tells me it was a pleasure to work with her husband on screen — in fact, she cited working with Lo Truglio as her favorite experience on the WHAS set. Of course, a good deal of that had to do with mocking Lo Truglio's haircut.
"Pointing at [Joe Lo Truglio] and laughing at his haircuts," when I ask Dover if she a particularly fond memory from production. "Yeah, I think a lot of it was laughing at my own husband."
I ask Dover if she knows if there's any more Wet Hot American Summer sequels in the works — since Ten Years Later is the second one in two years — and she says she's not sure. But if there is, Dover's definitely in.
"I'm sure they have more and more ideas, but I really don't know if this is going to be part of a trilogy," Dover says. "They could ask me to lay down in traffic and I would do it. I love David [Wain] and Michael [Showalter]'s comedy so much."
Wet Hot American Summer: Ten Years Later premieres all eight episodes on Netflix this Friday, Aug. 4.