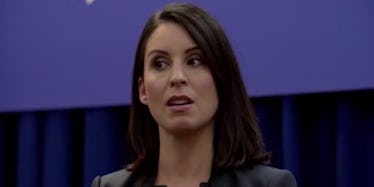 Piper And Alex's New "Sorority Sister" Inmate Linda Has A Dark Secret In 'OITNB'
Netflix
Litchfield's newest inmate is actually a familiar face to Orange Is the New Black viewers. After the prison riot that starts off Season 5, Linda Ferguson enlists the help of Piper and Alex to go from bureaucrat to prisoner in order to avoid being captured and tortured.
Fans of the show will remember Linda as a particularly troublesome part of Season 4.
She was introduced as the Director of Purchasing for MCC, the private company that owns Litchfield, and proved to be the most heartless of the bunch, refusing to spend money on living essentials for the inmates and even admitting to never having set foot in the prison that she is supposed to be running.
Well, she certainly gets her fill of prison life in Season 5.
As the inmates begin to round up and contain the guards at the start of the new season, Linda (who was going to the bathroom in the prison as the riot breaks out) is forced to beg Piper and Alex to help disguise her as an inmate in order to avoid the torture the other non-inmates are having to endure.
Piper and Alex's decision to help her out propels Linda from just a run-of-the-mill, douchey bureaucrat to an interesting and complex character who we learn a lot more about this season.
Disguised as a forger from Connecticut, Linda quickly makes friends within Litchfield but has to hide the secret that threatens to out her as an outsider: her relationship with the warden Joe Caputo.
Piper and Alex learn about their romance after they find Caputo's d*ck pics on Linda's phone, but find themselves in a stalemate with Linda when she finds out about Alex murdering and dismembering the guard who was hired to kill her (#TBT to that major plot point from Season 4).
While Piper and Alex stress over Linda's power over them, we find out Linda is no stranger to maneuvering her way into power in a cultish, female environment. That's right — she was a sorority sister.
In a flashback, we learn Linda rose to power in her college sorority after abandoning her critical "big sister" while she drunkenly tried to pee outside on a freezing night.
The flashback illustrates both Linda's ease at getting in with other women, and her desperation to do whatever it takes to get to the top. Later in the season, we see Linda snuggling up with Big Boo for protection, and denying that she and Caputo are still in a relationship.
Litchfield may be a far cry from her old sorority house, but Linda can still clearly play these women like a  fiddle.