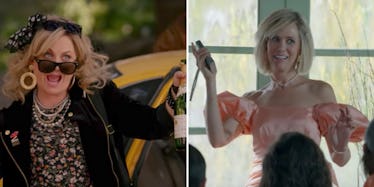 'Wet Hot American Summer: 10 Years Later' Trailer Is Absolutely Packed With Stars
Netflix
Every comedy fan's dreams just came true. Netflix just released the first trailer for Wet Hot American Summer: Ten Years Later, and it's packed with even more superstar actors than the 2001 original.
The off-the-walls new trailer fulfills a promise all the counselors made at the end of the original movie: to meet up 10 years later. And since the original was set in 1981, the new Netflix series is going full '90s.
Check out the hilarious trailer below:
Did you catch all those stars!? In case you missed any, it looks like pretty much everyone from the original movie is coming back, including Amy Poehler, Paul Rudd, Chris Meloni, Ken Marino, Janeane Garofalo, Molly Shannon, Michael Ian Black, Elizabeth Banks, and of course co-creators Michael Showalter and David Wain.
The new series will also bring back the new stars it added to the franchise in 2015's Wet Hot American Summer: First Day of Camp, which includes Kristen Wiig, Chris Pine, Josh Charles, and John Early.
And if alllll of that wasn't enough, the new series is adding even more new stars! The trailer introduces Alyssa Milano, Adam Scott, and Jai Courtney to the iconic comedy franchise as well.
The one notable absence is Bradley Cooper. The original Wet Hot American Summer is notable for starring an ensemble cast of comedians before they all went on to become major movie stars, and Bradley is the most prominent example of that.
Though he did reprise his role as Ben in First Day at Camp, his part was cut down so that he could film it quickly, and the series itself even poked fun at the fact that they couldn't get Bradley on set for a long time by having Ben wear a mask to cover his face in a later scene (presumably played by an actor who wasn't Bradley).
Still, I would definitely say that this cast more than makes up for Bradley Cooper's absence. There's no word on when the new series will drop on Netflix, so stay tuned!