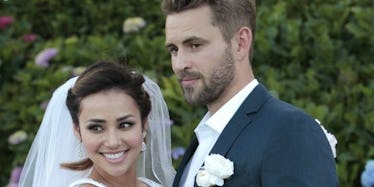 'Bachelor' Contestant Hysterically Cries Over Nick Viall In Live Video
ABC
Normally, when it comes to this season of ABC's "The Bachelor," if it ain't about Nick Viall and Corinne Olympios, I really couldn't care less.
However, toward the end of last Monday's episode of "The Bachelor," Nick Viall made an unprecedented move and sent home two different women from a two-on-one date.
If you watched the episode, you'll recall Nick left contestant Whitney, the Pilates instructor, on the beach in Saint Thomas and sped away with contestant Danielle L in a helicopter.
However, later that evening, Nick did the unthinkable and "totally blindsided" Danielle L by eliminating her from the competition.
Entertainment Tonight recently sat down with Danielle L to discuss her shocking dismissal from "The Bachelor," and the 27-year-old had plenty to say.
Speaking on her elimination, Danielle L said,
I was really surprised. It just totally blindsided me.
However, the more Danielle L spoke, the more she appeared to understand Nick Viall's decision. She said,
When we were going over questions, in terms of our future goals and plans, it just didn't line up with what he was looking for. He said he felt like we had this incredible spark and it almost intimidated him to a certain point, where I felt like maybe he thought that momentum could be lost when the show is over. So it felt like he almost went back to his checklist and attributes of what he wanted out of a woman.
That being said, Danielle definitely sounded like she's far from over the fact she's no longer on the show. You can clearly see the small business owner crying hysterically in her ET interview.
The 27-year-old said,
After being sent home and not getting a rose, I was almost sitting in the hotel room, like, is this really happening? Like, any minute he's going to come knocking on the door again, we're going to talk, have this discussion and everything's going to be OK. It never happened. I really had strong feelings for him and to see him react that way, it sucks. I hope he's happy... I don't think there's anything I could have done.
Now I'm just kind of sad for this woman.
In case you're wondering, Danielle L also dished on everyone's favorite "Bachelor" contestant Corinne Olympios.
Speaking on the lover of cheese pasta, Danielle L said,
Looking back now, we definitely underestimated Corinne. I wouldn't underestimate her!
We're going to miss you, Danielle L.
Citations: EXCLUSIVE: 'The Bachelor's Danielle Lombard Says She Was 'Totally Blindsided' By Elimination (Entertainment Tonight)