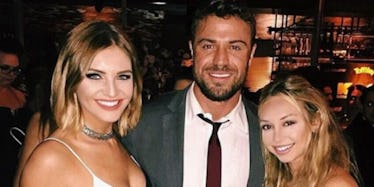 'Bachelor' Contestant Corinne Hung Out With Bad Chad And Fans Can't Handle It
Worlds are colliding, people!
Wednesday night, everyone's favorite "Bachelor" contestant, Corinne Olympios, got up close and personal with everyone's favorite "Bachelorette" villain, Chad Johnson!
According to "Entertainment Tonight," Corrine Olympios and Chad Johnson, along with former "Bachelor" contestant Olivia Caridi, attended OK! Magazine's yearly pre-Oscar party at Nightingale Plaza.
Chad Johnson, who also appeared on the most recent season of "Bachelor in Paradise," shared a photo of himself with Olivia Caridi and Corinne Olympios via Instagram.
To caption the above photo, CJ wrote,
We're just misunderstood [smiley face emoji]. Team Olichorinne. @oliviacaridi @colympios
How many shots you think Chad Johnson downed before coming up with "Team Olichorinne?" Like, what, man?
According to ET, another person in attendance at OK! Mag's party claims Corinne went over to Chad to take some photos with him.
Apparently, these two had quite the conversation at Nightingale Plaza.
According to a source at the party, Corinne and Chad "appeared friendly, but not flirty," and she left CJ at the venue at roughly 10 pm.
However, earlier this week, 29-year-old Chad Johnson reportedly admitted to crushing on Corinne. He said,
Yeah [I'm interested in Corinne]. I mean, I don't know what she's like in person, but we've texted a little bit.
AYOOOO!!!
The former "Bachelorette" and "Bachelor in Paradise" villain continued,
I knew that because she was the villain, nobody was really going to be talking to her. She was probably going through this all alone, and you think no matter how hard-headed you are. I knew people were probably just tearing her down, so I just wanted to let her know, like, 'Try not to look at it, let it pass. It will slow down.'
Corinne is still currently competing on Nick Viall's season of "The Bachelor," but tell me it's farfetched to imagine Chad Johnson and Corinne Olympios hooking up on the next season of "Bachelor in Paradise."
I'll wait.
Citations: Corinne Olympios Parties With 'Bachelorette' Bad Boy Chad Johnson: 'We're Just Misunderstood' (Entertainment Tonight)