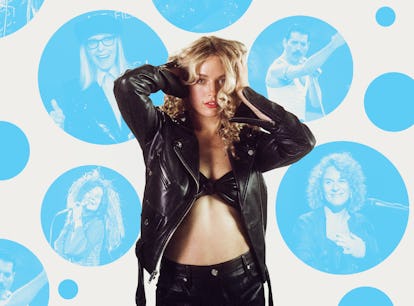 Ashe Turned Loss Into Light With The Help Of Diane Keaton
The rising singer-songwriter opens up about her legendary influences.
Alex Harper/MICHAEL TRAN/AFP/Jack Vartoogian/Bettmann/ Pete Still/Redferns/Getty Images
In Elite Daily's series Early Influences, musicians reflect on the songs and albums that left a lasting impression on them in their formative years. Here, singer-songwriter Ashe talks about some of the artists she loved listening to growing up, and how they shaped her sound today.
Ashe wouldn't have expected that one of the hardest moments in her life could lead to one of her greatest joys, but that's exactly what happened with her new single, "Love Is Letting Go." The singer-songwriter teamed up with Oscar winner Diane Keaton to sing about their experiences losing loved ones.
In September 2020, Ashe's brother died suddenly of a relapse following a 14-year battle with substance use disorder; earlier that year, Keaton also went public about her evolving relationship with her brother, who is living with dementia. "Love Is Letting Go" is just one of the many emotion-packed songs on Ashe's sophomore album, Rae, which dropped on Oct. 14.
You might know Ashe, 29, from her hit songs like "Moral of the Story" and the Finneas collab "Till Forever Falls Apart." You might also know her by her real name: Ashlyn, the title of her 2021 debut album. With Rae, which similarly takes its title from her middle name, Ashe is her most vulnerable, as she takes listeners through her personal journey of love, heartbreak, and rising from the ashes stronger than ever.
Keaton is just one of several entertainers Ashe has looked to for inspiration over the years. Below, Ashe talks about offering Keaton her first official job as a record artist, finding her Carole King phase in Nashville, and gearing up for her upcoming tour.
With Rae officially out, Ashe is ready to take her show on the road with the Fun While It Lasted Tour. She'll be touring Australia and New Zealand in November before hitting various cities across Europe and North America in spring 2023.
Don't expect to only hear songs from the new record, though. Ashe plans to show love to both Ashlyn and Rae on tour. "I'm excited to marry both albums into one show," she says.
As far as her next album goes, Ashe joked that she's "trying to be really mysterious about" the title of her eventual third album. (Fingers crossed it's Wilson, her last name.) "My best practice is to go and live my life and then pull from my life," she says. "The next album's going to be crazy because I've just been journaling out of my mind."