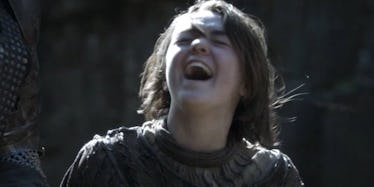 Everyone's Making The Same Arya Stark Joke About The iPhone X & It's Hilarious
HBO
Game of Thrones may be on a long hiatus, but clearly the humor from Westeros is stronger than ever. Fans of HBO's fantasy epic were all making the same joke while watching Tuesday afternoon's Apple event announcing the features of its upcoming iPhone X, and Twitter couldn't get enough of it. After Apple revealed its new Face ID feature, social media exploded in iPhone X Arya Stark jokes about everyone's favorite face-swapping assassin. Because one person who will definitely be able to hack into any iPhone she wants to with a facial recognition feature is Arya Stark.
Let's give you guys a bit of background before we get to the Game of Thrones element of it all. Apple revealed that instead of the thumbprint ID system that iPhones use now to easily let usersloginn, it's new release will go one step further and actually recognize its owner's face, and unlock once it does. So basically, you can just look at the new iPhone X and it will open for you. But as Game of Thrones fans well know, getting someone else's face isn't as hard as you may think in Westeros. Last season, Arya Stark trained under Jaqen H'ghar in the House of Black and White to learn how to wear the faces of the men she has killed. The Apple event invited the comparison to Arya's new skill even more by projecting a background on which masks of human faces hung on a wall, very similar to the wall of faces Game of Thrones showed in the House of Black and White.
Take a look at some of the funniest iPhone X/Arya Stark tweets below:
If only iPhones existed in Westeros — Arya would easily be not only the fiercest assassin in the land, but also the most skilled hacker!
Thankfully, iPhone X owners won't have to worry about any face-changing assassins hacking into their phones. Although the new Face ID system was met with expected skepticism online, the Apple developers are encouraging users that the facial recognition technology will be incredibly difficult to fool. In fact, Apple's senior vide president Phil Schiller said the new Face ID system is harder to fool than the current Touch ID system. Apparently, the chances of someone fooling the Face ID in order to access an iPhone X that is not theirs is one in a million, which makes it 20 times as difficult to hack as the Touch ID's one in fifty thousand chances.
The new smartphones will employ a newly branded TrueDepth camera that can even detect its owner's face in the dark. That's right — you don't have to worry about turning on your lights if you want to quickly open your iPhone X while you're lying in bed and can't sleep. And apparently, the new feature is also smart enough to recognize your face even if your look happens to change. You can grow a beard, get a scar, put on a pair of glasses and a hat, and according to Apple's development team, your phone's Face ID will still have no problem recognizing that it's the same old you with a new look. It can also differentiate pictures of faces from real faces, so no — some rando can't just hold up a picture of you in front of you iPhone X to gain access to it.
It sounds like Apple really has thought of everything with this new Face ID thing, but of course, skeptical techies aren't going to believe it until they put their face in front of an iPhone X themselves when the new smartphone comes out on Nov. 3. And of course, they're definitely not Arya-proof.