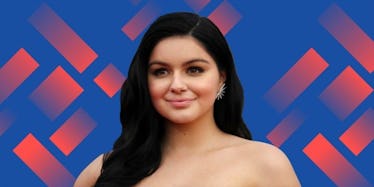 Ariel Winter Is Basically Naked On Snapchat, So Try To Keep It Together
REUTERS
You guys, Ariel Winter is at it again. The 18-year-old has been on a tear this summer, posting quite a few revealing photos and videos on Instagram.
Now, it appears the "Modern Family" star has taken her talents to Snapchat, and we're definitely not upset. In her latest social media post, which you can see in the video above, Winter leaves very little to the imagination.
That white dress is, well, amazing for a variety of reasons, but the obvious takeaway here is Ariel Winter's breasts are in your face and they are fantastic. Winter is absolutely stunning, and she's clearly very confident about her body -- not that she has any reason not to be.
Side note: I've never loved The Pussycat Dolls more than after watching Ariel Winter's Snapchat video.
Seriously, though, you probably watched "Modern Family" for years, but did you ever picture Alex Dunphy, I mean, Ariel Winter, growing up to be an absolute bombshell?
Forget keeping it together. Let's nominate Ariel Winter for president of the United States and just call it a day.
Citations: Ariel Winter flashes cleavage as she shares selfies from glam session (Daily Mail)