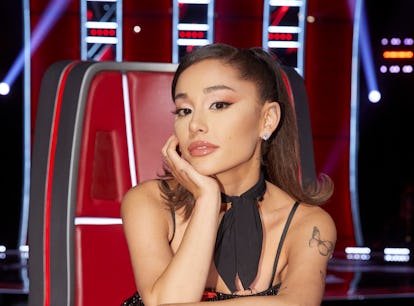 A Full Breakdown Of Ariana Grande's Dating History
All the way up to Ethan Slater.
NBC/NBCUniversal/Getty Images
Ariana Grande's relationship status has made its fair share of headlines — especially since reports surfaced of her separation from husband Dalton Gomez. On July 17, TMZ reported that Grande and Gomez were "heading for divorce" after over two years of marriage. Per an Us Weekly source, "They were having issues before she left for Wicked filming [in London] that they couldn't resolve, and the distance did not help. They haven't been speaking and are separated, and a divorce is likely."
A few days later, on July 20, romance rumors swirled surrounding Grande and her Wicked castmate Ethan Slater. The messy saga — specifically the fact that Slater reportedly left his wife for Grande — has prompted a closer look into the singer's relationship history, which includes famous names like Big Sean, Mac Miller, and Pete Davidson. (Plus, more names who were not mentioned in her famous song "Thank U, Next.")
Here's a full breakdown of Grande's romantic history, plus details on the most recent controversy.
Graham Phillips: 2008-2011
Fifteen-year-old Grande met actor Graham Phillips when they both starred in the Broadway production 13: The Musical. (You might recognize Phillips from his roles on Riverdale, Atypical, and The Good Wife.) The couple dated between 2008 and 2011, and they even released a song together called "Stick Around."
Jai Brooks: 2012-2014
Grande and Australian Youtuber Jai Brooks dated on and off between 2012 and 2014.
Nathan Sykes: August-December 2013
The Wanted singer and Grande dated in August 2013 after they released "Almost Is Never Enough" from the soundtrack of The Mortal Instruments: City of Bones. Their relationship was pretty short-lived, though, and they ended things in December 2013.
Big Sean: 2014-2015
Grande and Big Sean confirmed that they were dating in October 2014, but called it quits one year later due to "conflicting touring schedules." The pop star referenced the rapper in "Thank U, Next" with the line: "Thought I'd end up with Sean / But he wasn't a match."
Years later, in February 2019, they were spotted hanging out in the rapper's car outside a recording studio in Los Angeles. According to photos obtained by TMZ, the two of them later left in the car together, but nothing else is known about that reunion.
Ricky Alvarez: 2015-2016
Ariana and Ricky Alvarez, one of her backup dancers, dated for about a year in 2015. (He's the one who was her accomplice in the whole donut-licking scandal that year.) The pair broke up in July 2016. Grande included him in "Thank U, Next" with the lyric: "Wrote some songs about Ricky / Now I listen and laugh."
Mac Miller: 2016-2018
Grande and Mac Miller were friends for years before they finally got together in 2016. They split in May 2018 after two years of dating, and Grande confirmed the breakup with a post on her Instagram Story. "This is one of my best friends in the whole world and favorite people on the planet," she wrote at the time. "I respect and adore him endlessly and am grateful to have him in my life in any form, at all times regardless of how our relationship changes or what the universe holds for each of us!"
Miller passed away after an ​accidental overdose in September 2018, and Grande honored him in "Thank U, Next" with the lyric: "Wish I could say 'thank you' to Malcolm / 'Cause he was an angel."
Pete Davidson: May-October 2018
Weeks after splitting with Miller, reports began surfacing that Grande was "casually dating" SNL performer Pete Davidson. They got matching tattoos, she wrote a song named after him, they adopted a teacup pig together, and they got engaged with a $100,000 ring. Less than five months later, on October 14, the couple called it quits, with a source telling People the relationship was "way too much too soon."
Mikey Foster: 2019-2020
Grande and Mikey Foster sparked romance rumors after their steamy music video for "Boyfriend" in August 2019. The duo's on-screen chemistry was palpable, and they were later spotted out together holding hands. However, they had called it quits by early 2020, with a source telling Us Weekly in March that they were "not dating anymore."
Dalton Gomez: 2020-2023
Grande and Gomez started dating in January 2020 and decided to quarantine together starting in March. By December 2020, they were engaged. At the time, an insider told People, "They couldn't be happier, they're just so excited. This is a happy time for them, both sets of parents are thrilled."
The duo kept their romance pretty private until rumors of their breakup began in July 2023. According to reports, long distance was to blame. (Gomez is based in L.A., while Grande was filming Wicked in London.) Per People, they "have been quietly and lovingly working on their friendship" since splitting.
Ethan Slater: July 2023-Present
The timeline of Grande and Slater's romance is a bit murky, but according to reports, their relationship is still new but they're already "very much in love." On July 20, a source told Entertainment Tonight, "Ariana and Ethan recently started dating... They have a lot in common and have a lot of fun." Still, according to an Us source, they were "sloppy" about keeping things under wraps on the Wicked set. "They'd hold hands on set in between takes," and "[they] weren't careful," an insider claimed on July 26.
Following the rumors, Slater's wife Lilly Jay spoke directly to Page Six, explaining her side of the story: "[Ariana's] the story really. Not a girl's girl... My family is just collateral damage."
This article was originally published on