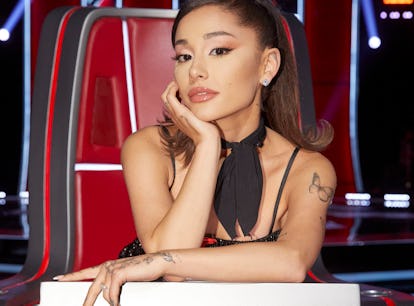 Ariana Grande Replies To Body Shamers On TikTok With A Call For "Openness & Vulnerability"
"The body that you have been comparing my current body to was the unhealthiest version."
NBC/NBCUniversal/Getty Images
In the last year, Ariana Grande has been readying her debut as Glinda in the upcoming Wicked film adaptation. While she's seemingly been in bliss at the land of Oz, she's recently endured a barrage of body-shaming comments online. On Apr. 11, Grande addressed the concerns about her appearance on TikTok and politely reminded everyone that her body should not be a talking point on social media.
It's no secret Grande has been the target of body-shaming comments online for most of her career. However, her TikTok sees her candidly speaking about her health in a way she never has before. Grande begins the video by confronting how uncomfortable it is to film this confessional, largely because she's "not good at it." However, she believes speaking her truth will offer insight to how harmful unwarranted comments can be.
"I think we should be gentler and less comfortable commenting on people's bodies — no matter what. If you think you're saying something good or well-intentioned, whatever it is," Grande said, emphasizing that those seemingly "positive" takes can be damaging.
The "Motive" singer added that healthiness looks different on everyone and used her own journey with her body as an example. "I know personally for me, the body that you have been comparing my current body to was the unhealthiest version of my body," she said. "I was on a lot of antidepressants and drinking on them and eating poorly."
She called that time "the lowest point of [her] life," and emphasized that fans should be mindful when speaking on what they consider to be a healthy body.
The discourse around Grande's appearance snowballed after she debuted her new dirty blonde hair and bleached brows for Wicked. As Grande shared several photos of herself promoting her R.E.M beauty brand or hanging with Wicked cast mate Cynthia Erivo (who plays Elphaba), fans began commenting on her figure. For awhile, the Positions singer never addressed these unwarranted takes; however, as made clear by her TikTok, the criticism grew too large to ignore.
"I know I shouldn't have to explain that. But I do feel like maybe having an openness and some sort of vulnerability here, good might come from it," she said, ending the video by extending love and well wishes to her fans.