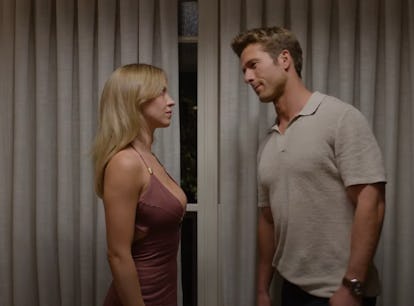 The New Anyone But You Trailer Finally Explains The Fake-Dating Plot
Sony Pictures
At the start of 2023, Sydney Sweeney and Glen Powell's undeniable chemistry was all anyone could talk about, and now their steamy connection is coming to the big screen. The highly anticipated romantic comedy Anyone But You has a pretty meta plot, with Sweeney and Powell playing two rivals who agree to pretend that they're dating. They do say that art imitates life, after all.
While Anyone But You was filming in Australia at the start of 2023, romantic photos and clips of Sweeney and Powell took over the internet. Their chemistry was so hot that it ignited cheating allegations, since both Sweeney and Powell were in relationships at the time. Those rumors blew up even more when Powell's girlfriend Gigi Paris broke up with him shortly after the photos went viral.
However, Sweeney cleared up all the gossip a few months later, saying she and Powell would joke about the hookup rumors because they found them so funny. Sweeney is still currently engaged to her fiancé Jonathan Davino. They've been together since 2018, before getting engaged in 2022.
Since the viral rumors, Anyone But You has been on of the most hotly anticipated movies of the year. Here's everything you should know about the new rom-com, including its star-studded cast and a first look trailer.
The Cast Is Full Of Stars
Sweeney and Powell are the main focus of Anyone But You, but they aren't the only celebs in the cast. The rom-com will also star Alexandra Shipp, Darren Barnet, Hadley Robinson, Dermot Mulroney, and Rachel Griffiths.
Get Your First Look
The first trailer for Anyone But You kind of fell short of fully explaining the plot. Sweeney and Powell play a pair of vacationers in Sydney, Australia who absolutely despise one another, but decide to pretend to be in a relationship as they attend a wedding together. The reason for that wasn't immediately clear... until the second trailer dropped.
A month later, a much more informative trailer revealed that Powell's character Ben is a past fling of Sweeney's Bea. They hooked up while Bea was on a break from her ex-fiancé Johnathan (Barnet), and ended things on a sour note.
When they both attend Bea's sister's wedding, they decide to pretend to be in a relationship to help them out of some tricky situations. Ben wants to make his ex jealous to try to win her back, while Bea wants to stop her parents from trying to set her up with Johnathan again.
It Hits Theaters This Winter
The wait to see Sweeney and Powell sizzle on the big screen is almost over. Anyone But You will be sailing into movie theaters on Dec. 22.
This article was originally published on