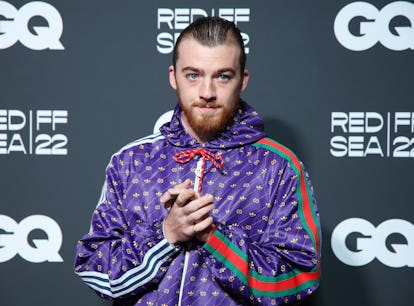 Angus Cloud's Last Words To His Mom Are Heartbreaking
Daniele Venturelli/Getty Images Entertainment/Getty Images
Two months after losing her son to an accidental overdose, Lisa Cloud opened up about what Angus Cloud's final moments were like. In a Sept. 25 People feature, Lisa detailed how her son spent his last day alive, revealing his beautiful but heartbreaking final words to her. It's clear that Angus spread love to his family and friends right to the very end.
The day before his death on July 31, Angus was remodeling his bedroom, moving an old loveseat out of the room and replacing it with a bookcase, on which he placed his grandfather's ashes. "He loved his home and he loved this little, tiny room," Lisa said.
Later in the evening, Lisa recalled that Angus and his friend Daniel Aguilera were working on spray painting projects in the backyard, designing a piece of graffiti art for their shared friend who had died of an overdose six years ago. Before they headed out to spray paint the memorial on the side of a building, Angus said goodnight to his mom. It would be his last words to her.
"I love you, mama. You're the best," Lisa recalled her son telling her. "I'll see you in the morning."
Angus got back home around 4 a.m., Aguilera recalled, adding that "he wasn't messed up or anything" when Aguilera left him that morning.
Lisa found her son slumped over his desk when she woke up the morning of July 31.
"I started shaking him and screaming," she recalled. "I pushed him hard, and he fell on the floor. I tried to resuscitate him — mouth to mouth — and I was compressing him. I was screaming for my neighbor because I didn't want to leave him and call 911, and I just kept at it until they took him away."
On Sept. 21, the Alameda County Coroner confirmed Angus' cause of death was an accidental overdose, revealing fentanyl, benzodiazepines, cocaine, and methamphetamine were found in his system.
After his death, several of Angus' co-stars and fans honored him with heartfelt tributes. Lisa shared that all the love for her son has moved her profoundly.
"He went out at his total power, his total beauty, his total influence, and the reaction that everyone has had is very moving to me," she said. "You know, he's not just an actor who overdosed. He was a beautiful soul, and that's why people miss him so much."