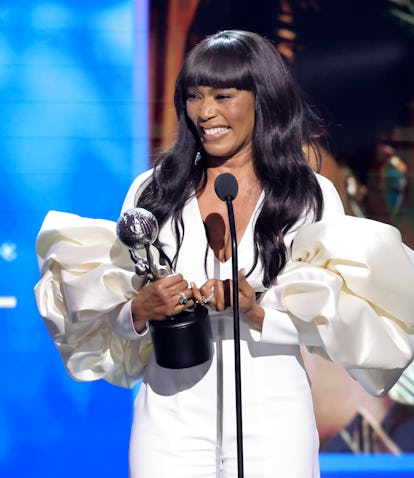 Angela Bassett Has Fully Embraced That She Did The Thing
Angie B, you are all of us!
Amy Sussman/Getty Images Entertainment/Getty Images
After a full week of constantly hearing her name sung on the internet, Angela Bassett took the perfect opportunity to embrace her new meme throne. The actor won the Entertainer of the Year award at the NAACP Image Awards on Feb. 25, and she closed out the ceremony by quoting Ariana DeBose's viral BAFTAs rap. Now it's more relevant than ever to say: Angela Bassett did the thing.
Bassett's name became an internet obsession after Ariana DeBose's musical number at the BAFTAs on Feb. 19 blew up online. In a rap shouting out all the actresses nominated at the awards show, DeBose added a little extra flair to the lyric, "Angela Bassett did the thing," and the line became the meme of the moment. Less than a week later on Feb. 25, Bassett finally got the chance to bring it full-circle. After she was announced the winner of the Entertainer of the Year award at the NAACP Image Awards, Bassett took to the stage and quipped, "I guess Angela Bassett did the thing!"
The night's biggest honor was Bassett's third trophy at the ceremony. She also took home the Outstanding Actress in a Drama Series award for 9-1-1 and the Outstanding Supporting Actress award for Black Panther: Wakanda Forever.
Before the ceremony began, Bassett revealed that she had checked in on DeBose after the rap went viral to see if she was handling the attention well. "I DM'd her last night. I did. It was beautiful," Bassett told Variety on the red carpet. "I just wanted to make sure she was OK because, you know, it's a lot of attention. And she is A-OK."
DeBose addressed the unexpected reaction to her performance for the first time earlier on Feb. 25. "Not gonna lie, I had a blast," DeBose shared in an interview with BBC Radio 2. "Apparently gay Twitter seemed to like it, so that's good. I'll take it."
It already looks like DeBose's song is going to be the soundtrack of awards season this year, especially if Angela Bassett keeps winning trophies.