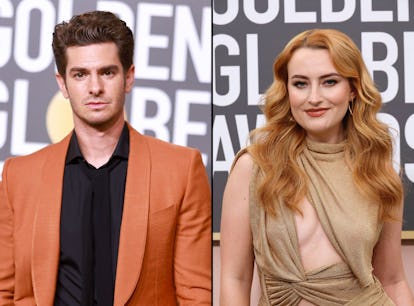 The Internet Is Shipping Andrew Garfield & Amelia From Chicken Shop Date
Matt Winkelmeyer/FilmMagic/Getty Images / Frazer Harrison/WireImage/Getty Images
The internet is convinced that we need an IRL rom-com, featuring an A-list actor and red carpet correspondent. Specifically, fans on TikTok and Twitter are shipping Andrew Garfield and Amelia Dimoldenberg after a video of them flirting at the Golden Globes went viral. (Dimoldenberg is the host and CEO of Chicken Shop Date, a viral video series where Dimoldenberg awkwardly interviews celebrities during a date at a chicken shop.)
In the video, filmed at the 80th Annual Golden Globes on Jan. 10, Garfield told Dimoldenberg, "The only person I ever want to see is you." Although he later clarified that he meant specifically for interviews on the red carpet, the flirtatious vibe was set — and the rest of their conversation only made it more obvious. At one point, Garfield even told Dimoldenberg that they were astrologically compatible since her sun sign (Aquarius) is the same as his moon sign. "You're the one who's obsessed with me," Dimoldenberg told him — and Garfield agreed, "That's what I'm saying. I'm scared of what it could turn into."
Flirty banter aside, Garfield and Dimoldenberg's body language also speaks to their connection. "They have a youthful energic chemistry," says Patti Wood, body language expert and author of Snap: Making the Most of First Impressions, Body Language, and Charisma. "This is a real spontaneous, flirty interaction."
It didn't take long for the internet to notice their palpable chemistry. "Imagine andrew garfield saying i only ever want to see you. i'd combust on the spot," an account commented on the video. Another wrote, "I'M BLUSHING LIKE A LITTLE GIRL!!!!!!!" One commented, "Im giggling and kicking my feet rn omg." To sum it all up? "It's the most chemistry I've ever seen."
Twitter also had fun with the viral interaction, immediately fan-girling over the ship.
This isn't the first time that Garfield and Dimoldenberg have flirted on the red carpet. At GQ's Men of the Year Awards, the duo had a similarly sweet moment. When Dimoldenberg told Garfield she wanted him to come on Chicken Shop Date, he said, "You do date a lot of people... I just don't feel, like, special, I guess." Dimoldenberg reassured him that he was "the most special."
Although Garfield hasn't gone on Chicken Shop Date yet, fans are hoping that an episode is coming. "Petition for Andrew Garfield to go on chicken shop date!" one fan wrote on TikTok. One may be in the cards, but in the meantime, Dimoldenberg updated fans with proof of her and Garfield's bond: a signed Best Friend Certificate.