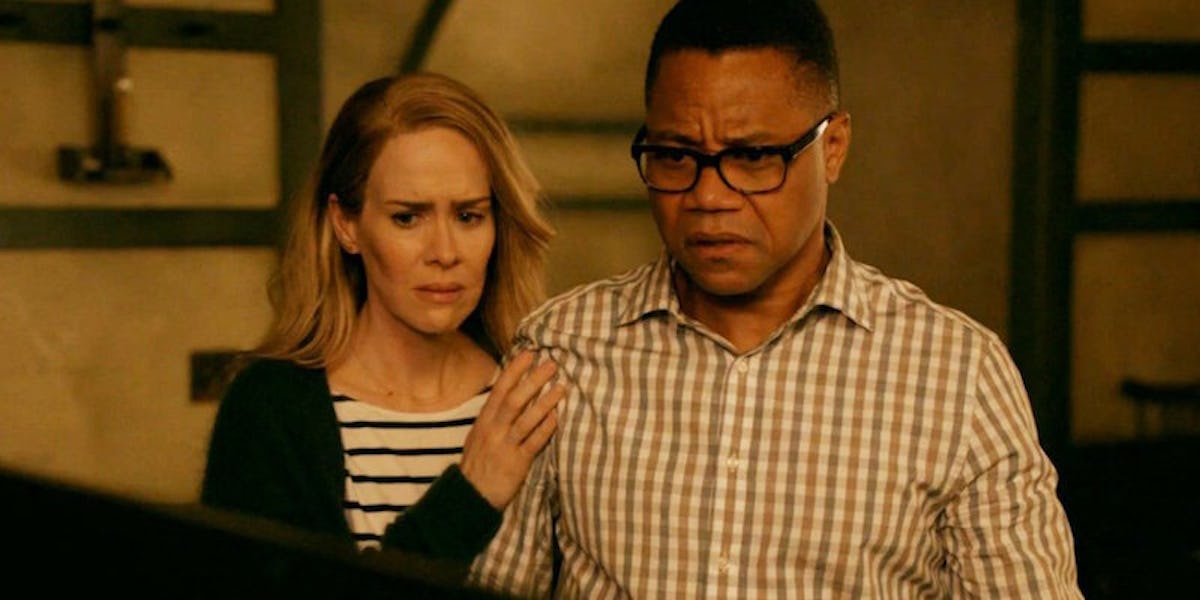 'AHS' Theory Suggests First 'Roanoke' Episodes Are Based On Previous Seasons
FX
Warning: This article has all kinds of "American Horror Story" spoilers.
There are so many damn theories about the sixth season of "American Horror Story" I don't know what to believe anymore.
We're only three episodes into "Roanoke" and things are already getting hella crazy.
And apparently, we don't even know the half of it. Ryan Murphy said in an interview there's going to be a "huge turn" in episode six.
He said,
Even though the subject matter has gotten out, it's irrelevant because nobody gets what we're doing… No matter what you think it is, it's not that. Then, episode six comes and you're like, 'Wait! What happened?'
So basically we're all just unsuspecting idiots and Ryan Murphy is going to hit us over the head with a massive hammer. Cool!
OK, so based on this quote from Ryan, nobody is going to understand anything until the sixth episode.
Which begs the question: Why do we have to wait six whole episodes to get to the good stuff?
Well, Reddit user danielsk1 has a theory about it: The first six episode each coincide with the previous seasons of "American Horror Story."
My theory on what will happen on ep6. from AmericanHorrorStory
Think about it. It totally fits.
The first episode of this season directly references the pilot episode of "Murder House" by having a nearly identical opening shot of the house.
Then, in the second episode, Cuba Gooding Jr. sees those ghost murder nurses, and we learn the house used to be a nursing home. Major "Asylum" vibes.
Finally, in the third episode we meet Cricket Marlow, a psychic from New Orleans played by Leslie Jordan.
AKA, the same actor who played Quentin Fleming in "Coven," who also happens to be from New Orleans!
Following this theory, we can expect something freaky (which seems like a pretty safe bet) in episode four, and something vampire-related in episode five.
Then FINALLY, in episode six, we can get to the "real" theme.
I guess we'll have to wait a few weeks to find out!
Citations: Is This Why the Big American Horror Story: Roanoke Twist Is Taking So Long? (Vanity Fair)