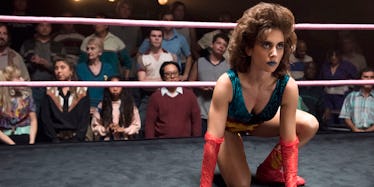 'GLOW' Star Alison Brie Reveals The Secrets She Learned While Filming
GLOW
As a fan of television, the internet, and pretty much anything else that distracts me from my daily responsibilities as a grown, human adult, I can honestly say Netflix seems to outdo itself every time it releases a new original series.
You'd be lying to me, to yourself, and to that co-worker you always try to avoid having a real conversation with if you claim to have never binge-watched Orange Is The New Black, House of Cards, or The Unbreakable Kimmy Schmidt at some point.
That being said, Netflix has a new original series coming out tomorrow, June 23, and it promises to be just as addicting as current faves like Master of None and Sense8 (RIP *single tear*).
GLOW is a wrestling comedy set in the 1980s that follows 14 struggling, female actresses as they attempt to learn the ropes (no pun intended) and become the stars of a pro-wrestling TV show. From that description alone, you can tell there will be plenty of laughs, but the show also has its more dramatic moments as the girls deal with sexism, exploitation, and personal and financial obstacles in their lives outside of the ring.
USA Today talked with the show's star, Alison Brie, about what it took to prepare for a role as a pro-wrestler. Brie said,
It's nice feeling like you know something about yourself that the world doesn't quite know yet. You are aware of what you're capable of, and it's your secret.
She went on to talk about how physically demanding it was to prepare for her role as Ruth. With only four weeks to get into tip-top shape, Brie upped her strength training because she "was dying to get into those bigger [wrestling] moves." And, TBH, watching her character attempt to nail those "bigger moves" is definitely worth the time.
All in all, it looks like another Netflix original series is about to wrestle its way onto our computer screens (sorry for that).