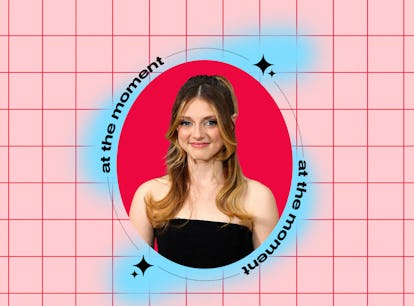 Alexandra Doke's Gossip Girl Dreams Came True With City On Fire
The star on Y2K fashion, her dream co-stars, and playing someone named Sewer Girl.
In Elite Daily's series At The Moment, celebs dish on their current projects, pop culture hot takes, and everything taking over their group chats. Below, City on Fire star Alexandra Doke opens up about embracing Y2K fashion and finding out she'd be playing someone named Sewer Girl.
It's hard to think of a less flattering name than Sewer Girl. But to Alexandra Doke, the 20-year-old actor who plays the crudely named groupie in City on Fire, it's the most perfect name in the world. "I love it," Doke tells Elite Daily, revealing her real-life nickname is very similar. "It's so funny because my friends and family and I all have this joke. I don't know where it started, but they've always called me Rat. And when I booked Sewer Girl, everyone started calling me Sewer Rat. And I just thought, 'This is so funny.'"
The name Sewer Girl may be funny out of context, but within the show, it carries a demeaning weight to it. SG's idol Nicky Chaos gave her the name to remind her she'd never be as enlightened or profound as him. In Garth Risk Hallberg's City on Fire novel, Sewer Girl never reveals her real name, but Doke's version of the misguided drifter does get a moment to rise above the sewer. As she grows closer to idealistic newbie Charlie, she confides in him that her real name is Lorraine.
"I don't think that's something I've told a lot of people," Doke shares, getting into her character's mindset during that important scene. "I mean, my own boyfriend still calls me SG. I think that it really grounds her and shows that she wears her heart on her sleeve. And as much as she tried to cover that up and get on that higher level of consciousness like Nicky wants her to be, she accepts her vulnerability for a moment. It's a really humanizing thing. Plus, I just think Lorraine is such a pretty name."
The City on Fire show didn't just give Sewer Girl a pretty name; it also gave her a whole new wardrobe. The biggest change the show makes from the source novel is its setting in time: The book takes place in the 1970s, but the series updates the story to the early 2000s. So Sewer Girl was transformed into the quintessential Y2K fashion girlie, complete with kitschy jewelry and colorful oversize tees. Her favorite SG accessory? The Froot Loops necklace she wears in the penultimate episode.
"I love Y2K fashion, so I was very excited when I found out about the time change, especially when I saw wardrobe," Doke gushes. "Although I do love the '70s, too, I have to say. But honestly, these are my two favorite eras. I'm 50% in love with the '70s and 50% in love with the early 2000s. So I was glad that if they changed the time period to anything that it was the early 2000s."
The Y2K setting is a particular sweet spot for co-creators Josh Schwartz and Stephanie Savage, who are revered as masters of 2000s teen dramas thanks to hit shows like The O.C. and Gossip Girl. Working with Schwartz and Savage was a full-circle moment for Doke, who grew up as such a massive Gossip Girl fan that she nearly changed her college plans because of it.
"When I was looking at colleges in high school, I wanted to go to L.A., but then I started watching Gossip Girl, and I was like, 'Maybe I should be in New York,'" Doke says. "I ended up going to L.A., but I was always like, 'Oh, I wish I could have gone to New York.' And now I get to live there for this show, and it's because of Josh and Stephanie, ironically enough."
And she's holding out hope that her NYC dream might last a bit longer. Although the first season of City on Fire fully adapts the novel's central story, Doke believes there's definitely potential for a second season. "I think that we have more of our story to tell," Doke shares. "I'm really hopeful that we'll get another season and continue that journey."
As the future of City on Fire is shrouded in smoke, Doke clears the air by sharing what pop culture is firing her up at the moment, from throwback The Strokes jams to the glorious return of Juicy Couture.
This interview has been condensed and edited for clarity.
Elite Daily: What's the last TV show you marathoned?
Alexandra Doke: I just finished all of Schitt's Creek. I loved it. It's a great relaxing show to watch, because in contrast, I'm also up to date with Succession, which is crazy. And I also just started Severance. I'm about halfway through and I love it.
ED: What is your most-used emoji?
AD: Let's see. It's the crying emoji with the tears streaming down. It's a very universal emotion. It can be laughing, crying, shocked. All of it.
ED: What's your favorite Y2K fashion trend?
AD: I'm loving the low-rise, baggy jeans trend. That's definitely one of my favorites. And also Juicy Couture. I'm so happy that's finally back.
ED: *NSYNC or Backstreet Boys?
AD: Backstreet Boys.
ED: What's the movie that you've seen the most times?
AD: Probably Midsommar. I've seen that a thousand times. Either that or La La Land.
ED: What's your comfort TV show?
AD: Fleabag, for sure. I think I've re-watched it four times.
ED: What is your ideal Friday night?
AD: A bonfire at the beach with my friends. And then we all go back and drink wine and play games and maybe paint a little bit.
ED: What song can you not stop listening to right now?
AD: "Slow Animals" by The Strokes. Oh, and "Gypsy Eyes" by Jimi Hendrix is another.
ED: Who's your all-time favorite musician?
AD: Jimi Hendrix.
ED: Who's an actor that you're dying to work with someday?
AD: I would love to work with Jodie Foster. That would be a dream. I would also love to do something with Emma Stone. Honestly, there are so many. Julia Garner is incredible. Jessica Chastain, Kathy Bates. I have a whole list.
ED: What would you be doing if you weren't an actor?
AD: Something music related. I do a lot of songwriting, and I've been teaching myself how to play bass for a few years. So maybe I'd be a bassist.