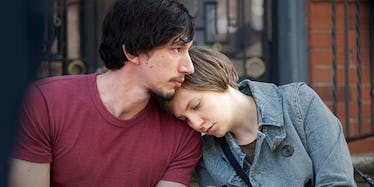 Lena Dunham And 'Girls' Cast Weigh In: Will Adam And Hannah End Up Together?
HBO
Lena Dunham's HBO comedy "Girls" may be coming to an end soon, but viewers and the cast itself still have several questions about how the final season will play out.
If you've been following the lives of Hannah Horvath, Marnie Michaels, Jessa Johansson and Shoshanna Shapiro since 2012, you're probably pretty familiar with the ups and downs of the characters' relationships... specifically, the storyline between Hannah and Adam Sackler.
Adam, played by Adam Driver, has arguably one of the most prominent roles in the series, even if his character isn't well-liked by many.
If you've been following season six, you know Adam is currently in the middle of a twisted love story between Jessa and Hannah.
He's moved on from Lena Dunham's character, as he claims, and is having sex with his ex-girlfriend's ex-best friend instead.
However, as I watch Adam and Jessa interact and lie naked on his living room floor, I can't help but think about the relationship he had with Hannah.
Even if their love was toxic, are the two supposed to end up together in the end?
Well, Elite Daily was able to speak with Lena Dunham and the cast of "Girls" about Hannah and Adam's relationship at the season six premiere.
The 30-year-old actress, producer and director told Elite Daily her most memorable moments on set happened to be with co-star Adam Driver.
She explained,
You know, right now -- and he's not here tonight, we love him so much -- every time I have the opportunity to act with Adam Driver... I didn't come into this as an actor, I came into this as someone who could say my own lines and he really was a teacher to me... so every scene I did with Adam, whether it was a fight scene or love scene or just sitting around eating food, was an amazing lesson.
As amazing as the chemistry is between Lena Dunham and Adam Driver off-screen, does it translate to their characters?
Jon Glaser, the actor who plays Laird on the HBO series, weighed in.
When asked which characters on "Girls" have the strongest connection, Glaser said,
To me it seems like the Adam-Hannah is a really, very hyper-strong, hyper-intense relationship. That's the one I would go with...
He continued,
Are they good as a couple? I don't know. Sometimes two people like that shouldn't be together even though it's hard... I don't know. It's hard.
Becky Ann Baker, the actress who plays Hannah's mother Loreen, also shared her opinion on the matter.
When asked if she believes Adam and Hannah should end up together at the end of the season, Baker shared,
I always will think that because I love them both so much... but they had such a dark relationship on-screen, so it's hard to say.
However, she does believe Hannah's connection to her parents will always be the strongest. She explained,
I think it's interesting, the relationship between Hannah and her parents... Because I do think, in some ways, it's one of the more honest relationships because she's a product of us... but on the other hand, I think she's also very close to her friends.
We still have weeks to go before the series finale, but hopefully Adam and Hannah's stories give us the closure we've been looking for.