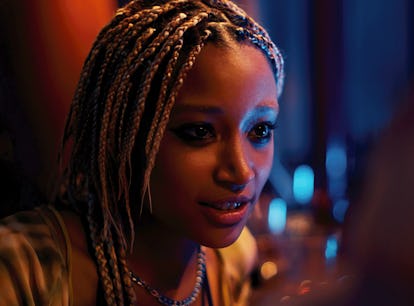 8 A24 Movies To Watch If You Loved Bodies, Bodies, Bodies
There's more where this came from.
A24
A24's latest horror movie Bodies, Bodies, Bodies is a thriller packed with jokes and buzzwords designed for Gen Z, yet it's still scary enough to make anyone jump. Starring a mix of rising actors and household names — Amandla Stenberg, Maria Bakalova, Pete Davidson, Rachel Sennott, Chase Sui Wonders, and Myhal'la Herrod — the film follows a group of wealthy young friends on the hunt for a real-life killer after participating in a silly game about fictional killers and victims that quickly gets too real. Throw in the fact that it all goes down during a hurricane, and you've got a recipe for the perfect claustrophobic slasher.
If you loved the intense energy and laugh-out-loud moments of Bodies, Bodies, Bodies, you're in luck: A24, the production studio behind the new movie, has a bunch of other movies that hit the same thematic notes and are just as cinematically impressive. A24 has become known for ensemble horror films filled with quirky cultural references and intense social commentary, and Bodies, Bodies, Bodies only scratches the surface.
From Midsommar to Life and Beth, here are eight other A24 movies that capture the same vibe as Bodies, Bodies, Bodies for your next horror-movie marathon.
Love this list? Create a Likewise account to save these recs to your own watchlist and follow Elite Daily for more. You'll always know exactly what to watch next.
If you couldn't get enough of Bodies, Bodies, Bodies' jumpscares, jokes, and social commentary, you'll love these other terrifying A24 movies.