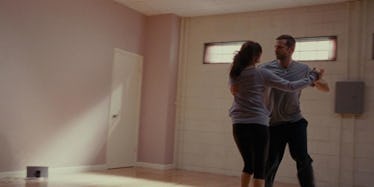 7 Reasons Dancing Is The Best Escape From A Routine Lifestyle
Weinstein Company
Dancing is one of the most appreciated activities. It gives you a feeling of freedom, and you never come across a couple dancing without a huge smile on their faces.
However, most people are ashamed to dance in public. They sometimes do it in their own living rooms, if they do it at all. Some even wait until their wedding day to learn a few steps. Then, once they do, they reach the highest level of embarrassment when all eyes are on them..
If you ever went out to a club or just to a place where they play music, there is a high chance you've felt the urge to move your body.
However, in case you are among the ones who think they have two left feet, you probably just kept your fantasies to yourself. You think if you're not talented and gifted, you shouldn't randomly attempt to dance.
All these fears are extremely common, but so unrealistic at the same time.
Okay, maybe you don't have a talent in street dancing or the waltz. But that doesn't have to stop you from wanting to learn how to dance in general.
After all, casual dancing and professional dancing are two very different things.
This activity has so many benefits, and it's amazing how good it is for your body.
I've wanted to convince my friends to take up dance lessons so many times, I've gathered a list of benefits in order to prove why dancing is great for you:
1. It keeps you fit.
You involve each and every muscle in your body when you tango, or when you go crazy with a bit of rock 'n' roll. Not to mention all the calories you can burn in only one hour of dancing.
Yes, you can pull a muscle after a dance lesson, but that happens only if you train for a championship. Otherwise, the sore muscles will be just a sweet reminder of how dancing can save you a trip to the gym.
2. It makes you smarter.
Different studies have shown over time that people who can dance are smarter. Besides, the chance of having a mental illness decreases, due to the high amount of concentration dancing requires.
3. It boosts your energy levels.
Imagine going to a dance class after a long day at work. You may not be in the mood in the beginning, but trust me, you will be refreshed at the end. It happens to me all the time.
Take, for example, a night out in the club after an awful week. All you want to do is hide under your blanket and sleep, but sometimes, the best therapy is to step out of that bed and go directly to the dance floor.
Your cells will produce so much serotonin, your energy levels will be up, and you will feel awesome.
4. You can impress your partner.
Think about this: You are in love with someone who dances to salsa or hip-hop. Wouldn't it be nice for you to dance together?
Maybe you will suck at it at first, but intention matters the most.
5. You can make new friends.
If you want to learn how to dance, there is nothing that can stop you. You don't need a mate to sign up for a course.
Many people, both men and women, go to dance classes by themselves. You most certainly will find people of the opposite sex to dance with.
You will also make plenty of friends. Dance studios often hold mixers after classes for students to practice in a more relaxing atmosphere.
6. You can enjoy the music you like.
You can't do the moves without the rhythm of the music, so you must really be passionate about the tunes in order to want to learn how to dance.
If you are a fan of Latin music, you should try the mambo, salsa or rumba. If you get goosebumps while listening to a classic symphony, you may choose a waltz class. If you are more into modern music, join a street dance class.
Remember: Moves without music is just fitness.
7. It's a way to express your feelings.
Like any other form of art, dancing can help you express yourself.
When I take a contemporary dance class, I often get wrapped up in the emotions of it all. The same goes for ballet.
Ever heard of making love to the music? Yeah, it was about dance.