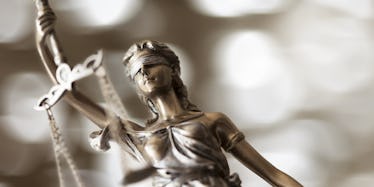 Brock Turner's Judge Explains Infamous Ruling: The Law Is "Not Always Popular"
sebra/Fotolia
It's been more than a year since the infamous Brock Turner sexual assault case outraged America, and just 10 months since Turner himself was released from jail, but the consequences of the case still aren't completely finished.
Aaron Persky, the judge who sentenced Turner, came to his own defense for the first time on Friday. Persky issued a statement, filed with the Santa Clara County Registrar of Voters, the Superior Court judge, and shared with The Mercury News. In it, he said that it was his responsibility to look at both sides, and that he was required "to consider rehabilitation and probation for first-time offenders."
As a prosecutor, I fought vigorously for victims. As a judge, my role is to consider both sides. California law requires every judge to consider rehabilitation and probation for first-time offenders. It's not always popular, but it's the law, and I took an oath to follow it without regard to public opinion or my opinions as a former prosecutor.
Not everyone agreed.
Persky's answer is part of a larger statement in response to an effort to recall him from his office.
The statement, which also praises him as an "advocate for battered women," warns against the recall effort, saying that "recalls should be for judges who have a pattern of bias or misconduct. Judge Persky has neither."
Critics are raising eyebrows at the idea that his leniency was a one-time thing. "Judge Persky has a long history of leniency in cases involving sexual assault. Here in Silicon Valley, women have had enough," Michele Landis Dauber, who is leading the recall petition against Persky, told The Washington Post.
In June of 2016, Persky sentenced former Stanford University athlete Brock Turner to a scant six months in jail for sexual assault.
In his ruling, Persky said that he was concerned about the "severe" consequences of a harsher punishment on Turner. He was roundly criticized for his leniency, with hashtags like #ThingsLongerThanBrockTurnersRapeSentence taking over the internet. Turner ended up serving half his sentence.
The recall effort will have to obtain 58,634 voter signatures in a 160-day period in order to be on the ballot, The Mercury News reported. If it succeeds, it will be voted on in June 2018, two years after the verdict in the Brock Turner case.