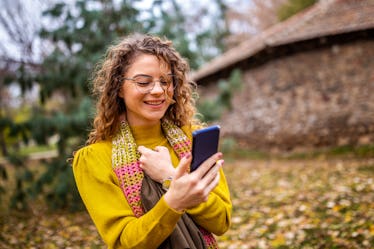 Here Are The 4 Signs Most Likely To Hit Up Their Ex On Thanksgiving
Quitting that old relationship cold turkey can be tough.
Kosijerphotography/E+/Getty Images
For some people, reaching out to an ex on Thanksgiving sounds as appealing as removing giblets from a turkey — it's tricky, it's messy, and they'd much rather watch someone else do it. Other people see Turkey Day as the perfect opportunity to hit up their former boo. After eating five different types of potatoes and drinking a glass (or two) of wine, reaching out to a former partner can suddenly sound like the perfect after-dinner activity. If you're one of the signs most likely to text their ex on Thanksgiving, then you'll likely be paying more attention to your phone than the football game after the table is cleared.
Not every zodiac sign texts their ex for the same reason. While some may hit that person up for a booty call, others may be looking to clear the air. There are even zodiac signs who will reach out to an ex simply to wish them a happy holiday, because that's just the kind of people they are. Aries and Capricorns would sooner pour hot gravy down their pants than text an ex-lover (and probs don't even have their ex's number saved in their contacts anymore), but for these four zodiac signs, texting an old SO over Thanksgiving is basically inevitable.
For these zodiac signs, apple pie tastes best when it's paired with a text to an ex (though personally, I'd prefer a scoop of ice cream). You do you, friends.
This article was originally published on