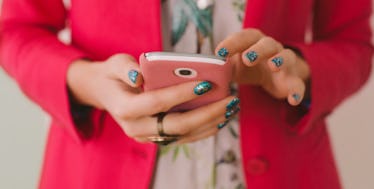 Use These Words In Your Next Dating App Message To Actually Get A Reply
Lumina
There's nothing more intimidating than a blinking cursor on your screen... except maybe the empty dating app message that follows it. What should you say? How much is too much? Who the hell's going to check your spelling? For a process that is supposed to ease the trials and tribulations of dating, the whole thing is a lot of work.
Now, you can take comfort in the fact that there is an online dating study that shows what exactly you need to say in order to get a reply. Deep breaths, folks, we're going to get through this one blank message at a time.
Initiating a conversation is never without its woes, and Plenty of Fish totally gets it. Should you hint that you're approaching your 30s and need to get the ball rolling? How soon is it to ask if he's a dog person? Before you spill your guts, the online dating site says to start with a compliment, a surefire way to get someone's attention.
Rather than begin with a list of things that won't work — his inability to watch reruns of The Office, the whole "I need to get engaged now so my timeline won't be offtrack" mentality — start with something positive.
Buzzwords like "pretty," "handsome," and "nice" are good ways to pique someone's interest. Plenty of Fish found that these words, among others, are more likely to get a reply.
The site's communication manager, Shannon Smith, spoke to Brit & Co. and said, "We scoured through 60 thousand messages to identify the top words used by men and women that actually lead to conversations; we love that subtle compliments make all the difference!"
And, to make things all the more simpler, you can check out the list of top 10 words used by both men and women that were deemed "conversation-making."
These were the words women used to get things cooking.
Nice
Love
Handsome
Great
Smile
Beautiful
Cute
Interested
Chat
Meet
Here are the words men used that saw positive results.
Beautiful
Love
Nice
Gorgeous
Pretty
Sexy
Today
Great
Smile
Interested
So if you're looking for a little summer romance, start using these words in your online dating messages and see where they take you.