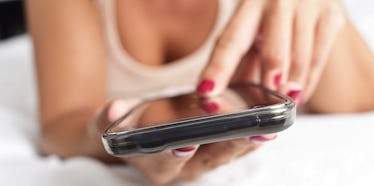 When Is The Best Time Of The Day To Use Tinder?
Shutterstock
Timing is everything when it comes to relationships. Timing is also everything when it comes to Tinder.
Think about it: What if you were busy swiping in New York, while your very own Prince William was perusing the app in London? Kiss that royal wedding goodbye.
And if you had swiped at 4 p.m. instead of 9:30 p.m. on that Thursday last summer? You would never have seen a micropenis in the flesh.
Swiping through faces is inherently a game of roulette - we know so little about a person when it comes to dating profiles. But when you add location, timing, and day of week to the mix? Talk about a total shot in the dark.
So is there an actual "best" time to swipe on Tinder?
According to science, yes: 9 p.m.
Huffington Post reported the time back in 2016 courtesy of a Nielson data report. It based its info off of 9,000 smartphones, found concluding that most people are using Tinder at 9 p.m., with that that number rapidly declining after 10 p.m.
But alas, just because the most people are on Tinder at 9 p.m. does not mean it's when the best people for you are swiping.
So when should you be looking for your new Tinder crush during this hot summer season of hotdog holidays and bare shoulders?
Meredith Golden, known"Tinder whisperer," matchmaker, and founder of SpoonMeetSpoon, says we should only use dating apps Mondays through Thursdays.
"You could have the fullest and most exciting life ever but sending a message at 1:00 PM on a Saturday doesn't convey it," says Golden. "Even if you have absolutely nothing to do over a weekend, you are better off binging on Netflix and inhaling Sour Patch Kids galore than online dating."
Even if you have a busy workweek and usually don't get around to the apps until the weekend, change that up! People are less likely to be swiping on a Saturday when the sun's out.
The rules may be different if you're just looking for some late night adventures.
According to Golden, "If you are looking for just fun -- go for it -- but if you are interested in a relationship, I would suggest staying away from odd hour messaging."
Plans for swiping are essentially just like trying to make plans for dating: If you're into something more legitimate, you'll hang out during the evenings and grab dinners, but if you're looking for a one-time hook up, you'll meet up at 2 a.m.
It's that key time of day when on Tinder that has a lot to do with the people you'll find and what they're looking for.
"For the swiping/window shopping aspect of the app, it doesn't really matter whether you are doing it on the train ride to work or on the toilet at 2 AM, but messaging with someone is a whole different story," says dating coach, Eric Resnick.
When you send a message is more important than when you swipe. If you match with someone on an app, you have no idea what time they swiped right on you. But if you message someone at 11 p.m. on a Saturday, that suggests that you are probably looking for some very specific relations.
If you are looking for a relationship on Tinder, consider that anyone who is looking for something serious and has their life together is generally not chatting with people on the app past 10 p.m.," says Resnick. "After that, it's all about the booty call."
Bam. 10 p.m. curfew, everyone. Adhere to it. It's also exactly what the Nielsen info about Tinder usage confirms.
So if you find yourself eager to browse around on Tinder, first ask yourself what you are swiping for. Do you want a love match or do you want to meet someone else who's lit up on a Saturday who's looking to play hide the salami?
If it's the former, stick to Monday through Thursday, before 10 p.m. For the latter, go on when others are more likely to be looking for the same type of late night summons.
As with everything when it comes to dating, make sure you are honest with yourself about exactly why you are swiping.
It'll make your life a whole lot easier.