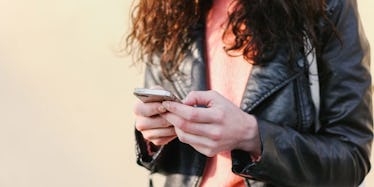 Crazy Heartbroken Woman Sends 10,000 Texts And Emails To Ex She Met On Tinder
Let's get real. Whether it's stalking their Facebook photos from 2009 or constantly rereading old text messages we sent them, we've all acted a tad crazy after splitting up from an ex.
But if there's anyone who knows a thing or two about going completely bonkers post-breakup, it's Dr. Denise Lee.
Lee apparently sent her ex-boyfriend, whom she met on Tinder, an outrageous 10,000 text messages and emails over the course of six months after they called it quits, according to The Daily Telegraph,
The 38-year-old allegedly sent out around 7,000 of those text messages right when the relationship went down the toilet, and she sent another 2,000 after her ex picked up and moved to Melbourne, Australia.
Like, girl... are you for real? How much did you possibly have to say that required 10,000 texts and emails?
But wait. It gets much worse.
Lee then went after her ex-boyfriend's newest girl, stalking her and her parents and even emailing the school where the new girlfriend's parents work over 100 times with made-up allegations about them
How many damn texts and emails did the girl have to send before her ex-boyfriend finally realized, "Hmm, this may start to become a problem down the road?"
Lee is now being charged with "six counts of using a carriage service to menace and ­harass, two counts of contravening a domestic Apprehended Violence Order and one count of stalking/intimidation with intent to physical harm."
According to TEN Eyewitness News, Lee made a court appearance on March 14, and the conditions of her bail are pretty strict.
She's required to check-in with the police every single day and must never go near an international or domestic airport. That is, unless it's to go to court.
She has also been barred from using any electronics, like her cell phone and laptop, aside from using them for work.
Fingers crossed Dr. Lee is able to refrain from getting in contact with her ex again, otherwise, the only phone she'll be using is to make her one call from prison.
Citations: Woman allegedly sends ex-boyfriend 10,000 text messages (TEN Eyewitness News), Doctor allegedly sent more than 10,000 texts and emails after her lover ended their affair (The Daily Telegraph)