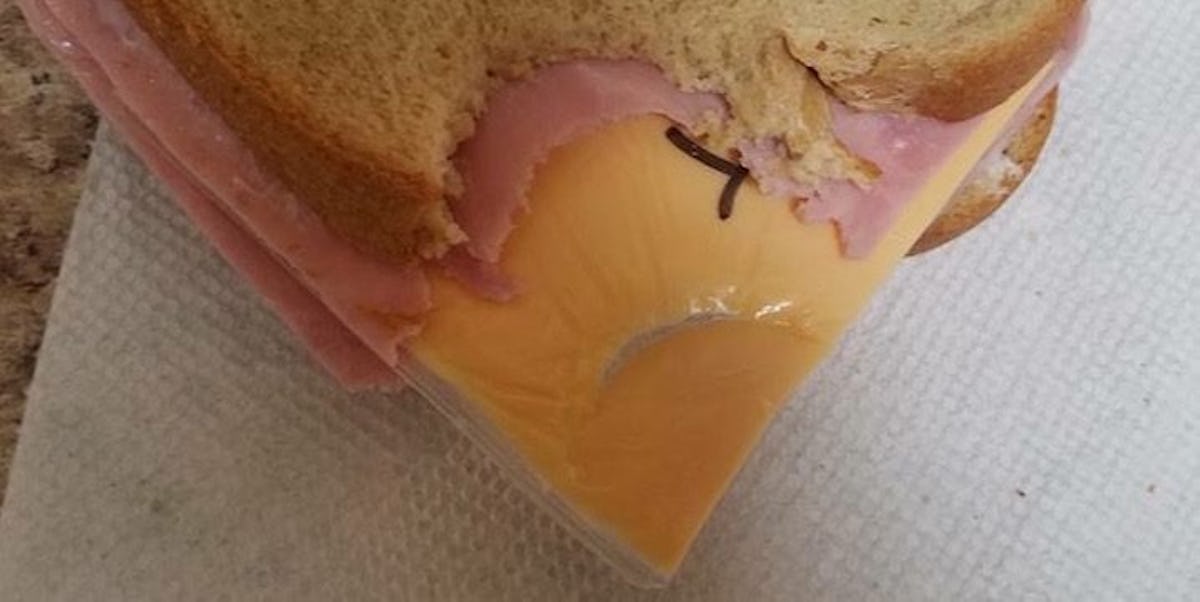 Husband Calls Wife A 'Sandwich Maker,' So She Gets Revenge On Him In The Best Way
There are lots of names your husband can call you:
"Babe," "Love of my life," "Supreme reigning goddess of my soul," "Honey," "Baby mama," "Light of my life" or even "Apple of my eye."
But what can't your husband call you? Well, there are a lot of names I won't go into extensive detail on, but one name that absolutely falls on that list is "Sandwich maker."
Listen, I DON'T CARE HOW MANY SANDWICHES YOU MAKE HIM. YOUR OFFICIAL ROLE IS NEVER "SANDWICH MAKER."
Needless to say, when one woman's husband called her "sandwich maker," she (obviously) wasn't pleased. So, she got some revenge.
After calling his wife "sandwich maker," this Imgur user found a surprise from her in his ham and cheese sandwich:
Yep, that's right. Be rude to your wife and the plastic wrapper  on the cheese is going in your sandwich, sucker!
Also, can we talk about how bummed he must've been when he bit into the sandwich and felt the plastic cover?! THAT'S WHAT REVENGE TASTES LIKE.
He took apart the sandwich to find this message from his wife written across the slice of cheese:
SORRY, SHE'S NOT SORRY.
I bet this guy will absolutely think twice before demeaning his wife like that ever again.
Needless to say, people on Imgur were loving her power move. To some people, she's a keeper.
She's even inspiring other women to follow her lead.
And if things don't work out with her hubby, other dudes are lining up.
The general consensus is, unless you own a deli and your job literally is to make sandwiches, being called "sandwich maker" by your husband is a hard no.
You're his wife, his better half, his partner in crime. You're not some lowly maiden whose sole purpose in life is to serve him a mean ham and cheese.
Hopefully, this won't happen to you. But in case it does, you now have the perfect revenge inspiration.