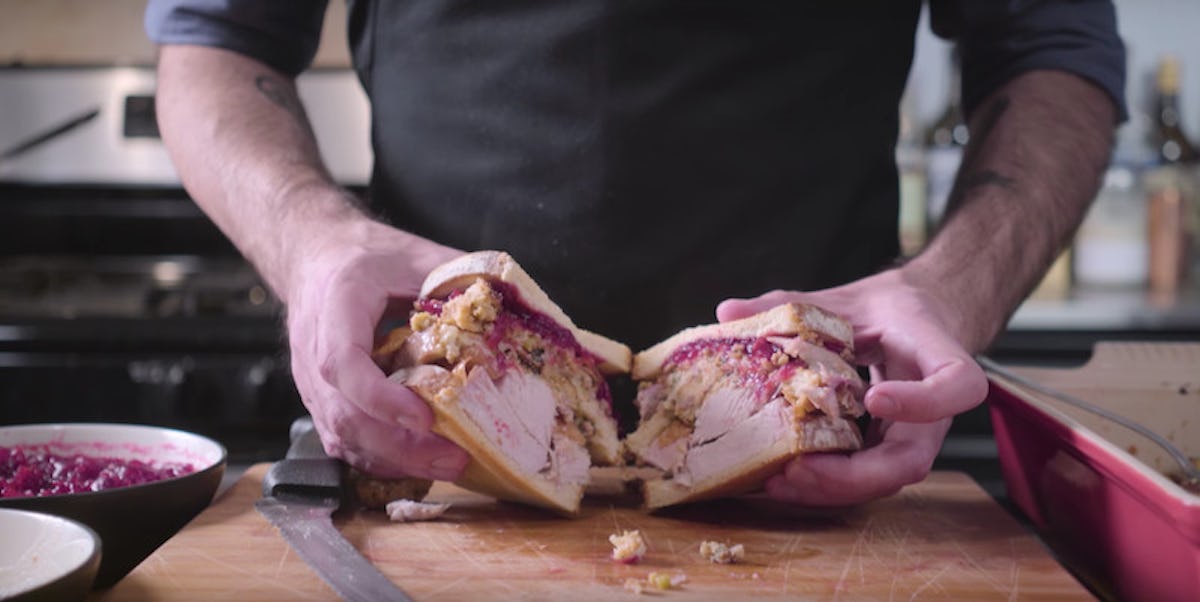 This Guy Recreated Ross' Thanksgiving Sandwich From An Episode Of 'Friends'
YouTube
I think everyone can agree the most important part of Thanksgiving is the food.
I mean, who really cares about spending time with family, catching up with old hometown friends and taking the time to remember what we're thankful for?
Those are all just things we put up with so we can have the pleasure of eating way more stuffing than we actually should.
And after we're done enjoying that glorious meal littered with passive-aggressive comments about our dating lives and the fact that Uncle Chris voted for Donald Trump, we lie down on the couch and wait another six hours until we can start eating the leftovers.
Now, I've had my fair share of leftover turkey sandwiches slathered in gravy and cranberry sauce, but I don't think any of those will ever beat Ross' Thanksgiving "Moist Maker" sandwich from that episode of "Friends."
Complete with a center of gravy-soaked bread, this borderline mythical sandwich is the kind that only makes appearances on TV... until now.
YouTube cooking series "Binging With Babish" threw together a version of the Moist Maker, and now we can all recreate it come Thanksgiving.
The chef, Andrew Rea, outlines how to cook every single one of the ingredients from scratch, including the bird itself.
After cooking up the turkey, stuffing, gravy and cranberry sauce, it's time to assemble the Moist Maker.
Rea starts by putting a layer of white meat and fresh stuffing on top of the toasted slice of bread.
Then, he soaks another slice in the gravy, hence the "Moist Maker."
After that, he adds a few pieces of dark meat along with more stuffing.
Rea then tops off the sandwich with cranberry sauce.
Finally, it's time to slice it up and eat it before anyone else gets the chance to steal it.
It looks so good, you might want to just skip the main Thanksgiving dinner all together and go straight for the sandwich filled with "leftovers."
After everything that's happened this year, at least we can be thankful for this.
Citations: Someone has made the Ross Geller Moist Maker sandwich from Friends (Metro.co.uk)