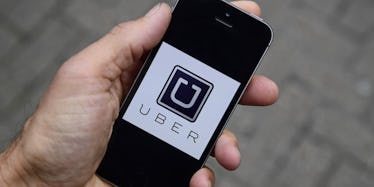 Cheating Guy Caught After Uber App Rats Him Out With Warning To Wife's iPhone
Toby Melville/Reuters
A cheating businessman whose wife discovered he was having an affair is blaming Uber for the breakdown of his marriage.
It's definitely not his own fault for having sex with another woman — according to the man himself, anyway.
Nope, a man from Côte d'Azur in the south of France is suing Uber after notifications from the taxi app alerted his wife to trips he was making to his lover's home.
He claims he used his wife's iPhone once to request a ride, but though he logged off afterwards, a glitch in the app meant notifications continued to be sent to his wife's phone.
This included his travel history, and when it showed he kept going to the same location, she became suspicious.
The couple have since gone through a multi-million dollar divorce and the man is reportedly suing Uber for €45 million ($48 million), claiming it caused them to break up, according to Le Figaro.
His lawyer David-André Darmon told AFP news agency,
My client was the victim of a bug in an application. The bug has caused him problems in his private life.
He added the man wants to remain anonymous.
So, how does the glitch work?
When a user logged in on a phone, their information was automatically stored, meaning updates continued to be sent through to that phone, even without a password.
It's believed only iPhones were affected, and an update in December wiped out the issue. But apparently it has been a common problem with the Uber app.
As an experiment, Le Figaro logged in and out of the app on one phone, but after requesting a lift on a second device, the first phone still received notifications about the ride.
So if you're an Uber-using cheater, you might want to make sure you've downloaded the latest update.
Uber said it would not comment on the case.
Citations: Un Français demande 45 millions d'euros à Uber pour avoir précipité son divorce (Le Figaro)