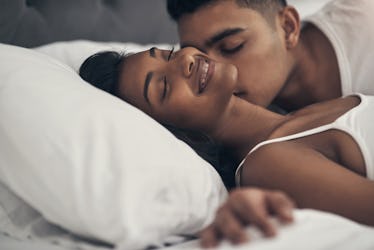 15 People Describe What Sex Feels Like For Women And People With Vaginas
PeopleImages/E+/Getty Images
If your high school health class looked anything like mine, you sat in uncomfortable plastic chairs with post-pubescent boys and haphazardly learned about fallopian tubes. Although you may have learned the body parts and scientific angles of your reproductive system, you may have left the class still wondering, why do I feel like having sex? And more to the point: What does sex feel like for women and people with vaginas?
Dr. Adeeti Gupta, NYC-based OBGYN and founder of Walk IN GYN Care, explains that different kinds of sex can produce different physiological experiences. She says that oral sex is more likely to bring a person with a vagina to orgasm than penetrative sex alone for one very special reason: the clit. "The pleasurable sensation is mainly due to direct stimulation of the clitoris," Dr. Gupta tells Elite Daily. "Increase of blood flow in the clitoral region is an extremely powerful precursor to female orgasm."
Of course, as long as what you're doing is consensual and pleasurable to you and your partner, there is no wrong or right way to have sex. Whether you like it rough, soft, with penetration or without, or you like to have something fit in every orifice — sex can look like whatever you want it to. Moreover, sex can feel like whatever you want it to. Still, no matter how long you've been doing the dirty, or how many partners you've gotten frisky with, it's natural to wonder what getting physical feels like to other people. Talking openly about sex and hearing stories from the people around you can be a great way to feel less alone and more supported in your own sexual journey.
15 women and people with vaginas weighed in on what penetrative sex felt like for them, and their answers show just how different the experience can be.
As long as your sex is consensual, there's no right or wrong way to feel while going at it. From erotic to intimate to just feeling like you have to pee, getting frisky can really run the sexy gambit. At the end of the day, sex can feel different to everyone, which sounds pretty sexy to me.
Expert:
Dr. Adeeti Gupta, OBGYN and founder of Walk IN GYN Care
Editor's Note: This story has been updated by Elite Daily Staff.
This article was originally published on