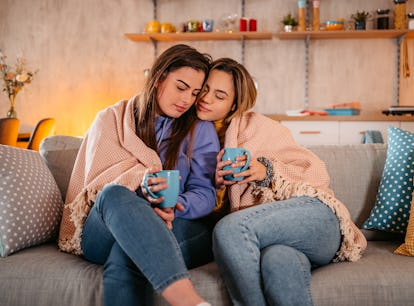 Here's The Best Valentine's Day Date For Your Zodiac Sign
urbazon/E+/Getty Images
Whether you're single or in a relationship, there is no wrong way to spend Valentine's Day. Yes, Feb. 14 is typically associated with flowers, chocolates, and a fancy restaurant, but it's possible that just isn't your idea of a good time. And there's nothing wrong with that! On a holiday all about love, you shouldn't shy away from honoring your wishes. (Self-love is love, after all!) So if you're struggling to figure out how to celebrate, dig a little deeper and take a peak at your astrological chart. Choosing how to spend Valentine's Day, based on your zodiac sign, might sound a little out there, but it actually makes a lot of sense.
Dates are not a one-size-fits-all situation, and there's a good chance that what appeals to you may depend on your zodiac sign. For example, a fire sign's dream date might not be as exciting for a water sign, and vice versa. The same goes for Earth and air signs, BTW. This only makes sense though, doesn't it? If your astrological chart affects your personality, why wouldn't it shape your romantic expectations, too?
Without further ado, here is the ideal way to spend your V-Day this year, depending on your zodiac signs.
Valentine's Day is all about showing love to yourself and to others, and these activities are a great way to help you do just that.
This article was originally published on