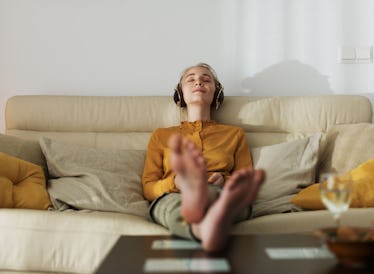 If Going To A Spa Isn't Exactly Within Your Budget, Here's How To Replicate It At Home
Milles Studio, Stocksy
When did self-care become more of a glamorous trend and less of a blatant necessity? Face masks weren't made exclusively for Mondays, and pampering shouldn't be just a Sunday thing, but rather an everyday thing. According to the American Psychological Association, a decent chunk of Americans are experiencing moderate to high stress levels daily, and if that doesn't call for a trip to the spa, then I don't know what does. Unfortunately, paying someone else to knead out the knots in your neck can get pricey, so home spa treatments for stress will have to do. Luckily DIYs are just as trendy as avocado toast these days, and experts say there are plenty of stress-relieving benefits to reap from homemade scrubs and solo massages that don't cost a fortune.
Despite what some social media influencers might have you believe, there's nothing glamorous about stress. Per the Anxiety and Depression Association of America, anxiety disorders — which, BTW, stem from stress — are the most common mental illness in the U.S. and affect approximately 40 million adults each year. Of course, if you're feeling stressed to the point where it becomes difficult to focus, or perform everyday tasks, you should consider speaking with a professional who can work through these issues with you.
However, stress is something that everyone deals with at some point in life, so in order to prevent those everyday stressors from boiling over into a more serious mental health concern, try putting these home spa treatments to the test to help you stay cool, calm, and collected from one day to the next.