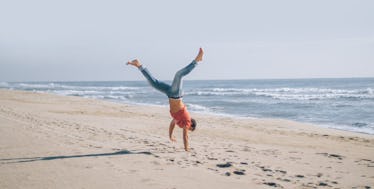 Going On Vacation Can Make You Happier Than Getting Engaged, Survey Finds
Lydia Cazorla
I've never actually taken a real vacation.
The closest I've come to being at a sunny beach resort while a shirtless foreign man serves me margaritas is when I snagged the outdoor table at the Mexican restaurant by my apartment.
I've just never felt the desire to leave the borders of the Big Apple. I'm content with my New York lifestyle, and a typical "vacation" to me involves lots of bong hits and binge-watching terrible TV. (I'm looking at you, "Supergirl.")
But according to the results of a survey by Booking.com, I'd probably be a much happier man if I stopped being such a hermit and took a damn vacation.
After surveying 17,000 people, the travel site found that a whopping 77 percent credit a quick getaway as a big reason for their happiness.
For 72 percent, even the mere act of browsing travel websites gives them a mood boost. And 56 percent would still rather drop money on a well-deserved trip than buying a new material possession.
But what's even crazier? Forty-five percent of those surveyed felt way more satisfied getting some R&R than they did from their own engagement, and 49 percent said it trumped the positive feelings on their actual wedding day.
Yeah, that's right: putting a ring on it or getting hitched can't even match these vacay vibes!
This all makes total sense to me.
I mean, when any aspect of your life becomes stressful AF, you yearn to escape. And I can't think of anything that would make me happier than doing absolutely nothing for a few days in a relaxing locale.
The survey also found that 51 percent of people would select a solid vacation over a date with their SO, while 29 percent chose the happiness from a trip over the — wait for it — birth of their own child.
Now, before you go ahead and brand those who chose a vacation over a newborn as complete human garbage, think about it.
This all circles back to the idea of needing some time for yourself to de-stress. It makes sense that booking a relaxing vacation could be a huge contributor to your great mood.
Research also showed that 51 percent of people would select a solid vacation over a date with their SO.
Honestly, as someone who doesn't typically designate any "me" time throughout the year, the idea of a vacation sounds pretty sweet right about now.
And who even needs a bae when a trip away can make you feel even better than a relationship milestone can?
Citations: Forget getting engaged or landing your dream job: Taking a HOLIDAY provides the biggest happiness boost (Daily Mail)