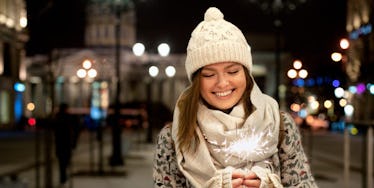 5 Reasons You Should Skip The Holidays And Go On Vacation
If you're like me, vacation planning is number one on your to-do list every year.
Having a vacation to look forward to is the only way I can get through the weeks and months of endless school and work.
Between master degree classes, working full-time and endless social engagements, I can't look forward to time off enough.
However, both time and cost pose a major problem for a young adult like myself.
Rather than canceling my travel plans altogether, or settling for a not-so-exciting vacation, I've found traveling during the holidays is the perfect, cost-efficient way to have a magical, stress-free holiday.
Here are five reasons why traveling during the holidays is the best time to travel:
1. Traveling is cheaper during the holidays.
By the time the holidays roll around, airlines and hotels have lowered their prices for the "off-season."
What would normally cost you an arm and a leg, is now half the price.
For example, I traveled to Paris for a week last Thanksgiving, and the price of my hotel and flight were half the price of going in August.
Thanksgiving week is great for traveling to Europe.
During Christmas, if you book flights the day before the week of Christmas or on Christmas Eve, airline prices are drastically lower.
When I was booking my flight from Florida to London for the Christmas season, prices on December 16 were $1,000 cheaper than prices on the 17. The key is to search around and to utilize sights such as Expedia or Trip Adviser.
2. You don't have to deal with holiday drama.
For us college students and young adults, it can be hard to decide where to celebrate the holidays. The possibilities are endless.
Do you stay at college? Do you celebrate with your significant other's family (although this one can be scary)? Do you go to a friend's house? Or do you go home and visit your own family?
Chances are, someone's feelings are going to get hurt no matter who you choose to celebrate with.
So why not forget the whole thing and go on vacation instead? Loved ones are often much more understanding when they realize you're not blowing them off for another friend or family member, but instead doing something fun and beneficial.
Who knows, maybe they'll even decide to join you.
3. You don't have to decorate for the holidays.
And the hefty price tag that usually goes along with those decorations is no longer existent either.
When my man and I booked a cruise for this Christmas, we decided getting a Christmas tree just wasn't at the top of our priority list. We weren't going to be home, and no one else would be able to water it for us -- it was kind of pointless.
In addition, there would be no need to set up lights, bake endless cookies or decorate the house.
You can still attend parties, go caroling and participate in other holiday activities, but the stress of having an ornately decorated space is no longer there.
4. Experiencing new places during the holidays is magical.
When my husband and I traveled to Paris over Thanksgiving, we were able to wander through the Christmas street markets.
When we went to Disneyland Paris, it started snowing. And the Champs-Élysées at night is awe-inspiring.
Seeing another part of the world lit up in all of its holiday glory was an experience I'll never forget, and one I think everyone should get to experience for themselves as well.
5. You can take less time off work.
Most of the time, students and professionals are given major holidays off of work. So, if you take your vacation over the holidays you're allowing yourself to save your other vacation days to spend some extra time off however you please.
The holidays are coming, my friends, best get planning.