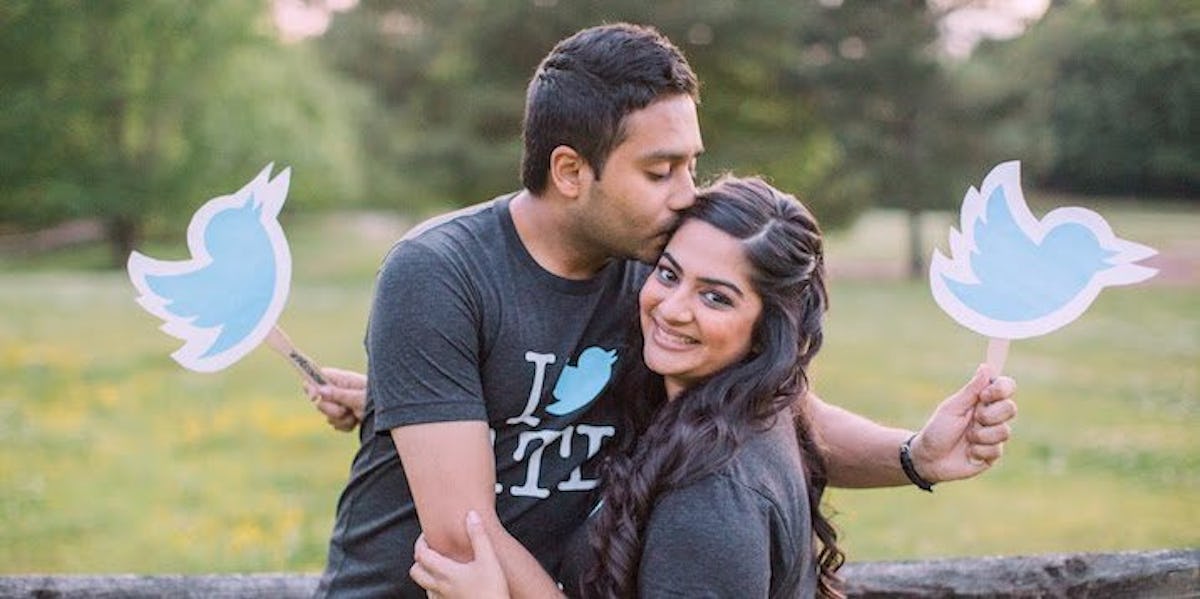 This Couple Who Met On Twitter Had A Twitter-Themed Wedding And It's Adorable
Every day, millions of young kids imagine what their wedding will look like one day. How will they meet their life partner? Will they live happily ever after?
For one young woman, her answers are "Twitter" and "yes."
Anuj Patel and Sumita Dalmia met on Twitter in 2013 after Anuj tweeted that he had an extra ticket to a young professional entertainment and cocktail event called Jazzoo. Sumita jumped at the opportunity, and the rest is Twitter history.
(That's what they say, right, guys?)
To honor their love, Sumita and Anuj, aptly calling themselves "tweet-hearts," threw the wedding of the century with beautiful decorations, gorgeous attire and some perfectly chic, Twitter-themed details.
I know. I KNOW! HOW ADORABLE IS THIS?
To propose, Anuj put together a Twitter-themed scavenger hunt, and live-tweeted Sumita's journey to find him. Apparently, her friends and sister were there to help hand out the clues that took her all over the city, eventually leading to where Anuj was waiting.
AWWWWWW!
At their wedding, the couple incorporated Twitter in loads of adorable ways, like...
A Twitter-themed photo backdrop, where guests could snap photos...
Blue-tiful bird snacks and cocktails...
Ornate stationary, like table place cards, menus and signage...
...and even their own camera filter, allowing guests to get in on the social media fun.
In planning their nuptials, Sumita explained how it was really important to the pair that every decision and detail had a thought or reason behind it.
She told BuzzFeed,
Twitter is such a big part of our love story because without it, we just wouldn't have found each other. The likelihood of our paths crossing was so minimal. We strongly feel that it was meant to be that Anuj posted about having an extra ticket when I was looking for one extra ticket.
Just for fun, check out some of their other amazing photographs from their beautiful day:
We wish these tweet-hearts a happily Twitter after! (Sorry.)
Citations: This Couple Who Met On Twitter Had A Gorgeous Twitter-Themed Wedding (BuzzFeed)